Virtual Site Inspections Are a Necessity Now, But How Good Are They?
While brochures and websites are a good starting point, they often don't tell the whole story about a hotel or other event venue. That's why, in ordinary times, meeting planners hop into cars or jump on planes for in-person site inspections.
But these are no ordinary times. The local grocery store is about as far as many can travel as long as stay-at-home orders remain in place due to the COVID-19 pandemic. That means planners needing to do a site visit are turning to the next best thing: virtual tours.
"Planning hasn't stopped, so the continued need to source properties is critical," said Tom Faust, vice president, sales and marketing, at Margaritaville Lake Resort, Lake Conroe-Houston, a property of Benchmark Resorts & Hotels. "We have to be nimble and allow clients to do their jobs."
Virtual Visualization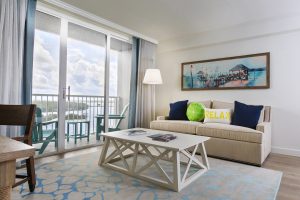 Margaritaville Lake Resort, which is under construction and slated to open this summer, has created drone footage that shows planners several views of the 186-acre property, which will feature 303 suites, 32 waterfront cottages, a host of amenities and a 72,000-square-foot, International Association of Conference Centers (IACC)–compliant conference center. (Pictured: Margaritaville guest room seating area)
The move creates options not just for those in quarantine, Faust noted. "If a planner can't have the whole board fly to the property but can have them all call in, or they need help distilling the venue choice down from 15 properties, the virtual tour just adds another level to the sales process."
That tool is helping customers in several ways.
"It was cool to see an aerial view of what has been done, versus what we saw on site," said planner Haley Daileda, executive assistant, Management Controls, who went on an in-person site of the property back in February but more recently viewed the drone footage. "It made us comfortable moving forward on the timeline they told us."
She intends to share the footage with attendees as the event gets closer, a more impactful resource than recollections of an in-person site inspection. "It's a cool, relaxing environment and we're hoping that seeing the activities will make attendees excited about the conference," Daileda said.
Seeing the Margarita drone footage allowed planner Nicole Chattin, senior program manager, Brightspot Incentives & Events, to visualize possibilities for events.
"I could see that the meeting space is close to the accommodations, there's waterfront space for events, and the lakefront cottages, which are a great option for executives."
Another property dealing with construction, the Omni Mandalay at Las Colinas, which is undergoing a renovation scheduled to be completed this summer, recently hosted a virtual tour on the videoconferencing platform Zoom for a client with an October 2020 event.
"The client was impressed and surprised by how much information we could share, and felt very comfortable moving to contract, which we did the day after the call," said Melissa Malone, director, sales and marketing. "Moving forward, it's a great way for us to do business, especially for customers who can't afford to travel to the hotel."
Property officials were able to show more of the upcoming space than would have been possible on site, she added. "Our entire backyard is being transformed and will have a new pool area. If a planner was here, we couldn't get to that but on the Zoom call, we could walk to the associates area and show the space through the window."
Beyond the Property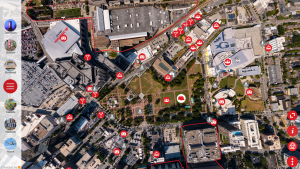 Destinations are getting in on the trend too.
The Atlanta Convention & Visitors Bureau's (ACVB) 360ATL, a digital platform that provides a 360-degree tour of the city, is becoming increasingly popular due to the coronavirus-induced travel limitations (pictured at left). One organization that used it recently was the SC conference.
"The virtual tour was very helpful," said Brian Ban, communications manager, SC20 Media & Communications. "It was representative of what the city looks like and it helped us identify suitable locations within the convention area for photos." 
The technology gives planners more exposure to a city's neighborhoods than one could experience during a site visit, added Mark Vaughan, executive vice president and chief sales officer of the ACVB.
"You can see on 360ATL what it looks like in Midtown, Buckhead and Old Fourth Ward, which is where really great chef-driven restaurants are, and the Ponce City Market, a work, live, play area that's become a hangout. All of that is an $8 Uber ride from Centennial Park [the convention area] and a planner might not get there on a site visit, but if you come to Atlanta and don't venture into the neighborhoods, where the local flavor is, you're missing out."
Virtual site inspections also give Hyatt Hotels a showcase for a property's surrounding areas. "In Hyatt Regency Chicago's virtual tour, planners see that the Chicago Riverwalk is right outside the front door, providing a great option for attendees to enjoy a morning run before meetings begin, or a walking break," said Steve Enselein, senior vice president of events. "We know attendee experience is top of mind for planners and through a virtual tour, we can help planners visualize that."
Quality Virtual Tours Ahead
But the tours should be about more than the physical space, noted Mark Cooper, CEO, IACC. "A virtual site inspection should include interactions with all the departments that would be present during an in-person visit, including food and beverage, technology, etc."
Virtual visits provide some big benefits, he added. "They address the environmental concerns that come from pre-conference travel. Also, they can showcase different seating arrangements, which couldn't all be set up during an in-person site."
In other words, virtual visits are a useful tool for meeting planners to have in their arsenal for the future.
"Going forward, I imagine we'll go back to in-person site inspections but we'll use virtual for certain decisions or to augment recommendations," said SC20's  Ban.
Added Michael Dominguez, president and CEO, Associated Luxury Hotels International, "We probably haven't put a lot of money or energy into how virtual can be more interactive and impactful for customers. Do I see it being sustainable for the long term? No. But virtual visits are a necessity when we're unable to physically travel. Thank god we have the technology." — Rayna Katz
Free Subscription to
MeetingMentor Online
Continue
About ConferenceDirect
ConferenceDirect is a global meetings solutions company offering site selection/contract negotiation, conference management, housing & registration services, mobile app technology and strategic meetings management solutions. It provides expertise to 4,400+ associations, corporations, and sporting authorities through our 400+ global associates. www.conferencedirect.com
About MeetingMentor
MeetingMentor, is a business journal for senior meeting planners that is distributed in print and digital editions to the clients, prospects, and associates of ConferenceDirect, which handles over 13,000 worldwide meetings, conventions, and incentives annually. www.meetingmentormag.com
Design by: Loewy Design