Hotels Want to Reopen, But Is It Safe?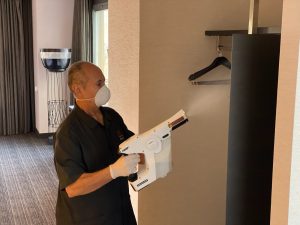 Remember a few months ago, when hotels were proud to greet guests to their lobbies with a unique signature scent? Once hotels get the green light to reopen after the widespread COVID-19 pandemic shutdown, you can expect that scent to be heavily laced with Lysol for the foreseeable future. Major chains including Marriott, Hilton and Hyatt have introduced new health and sanitation plans they hope will provide a comfort level that will entice guests back to their properties.
Here's a rundown on what some of these chains and individual properties have planned.
Marriott
Marriott's new Global Cleanliness Council has been tasked with developing "the next level of global hospitality cleanliness standards, norms and behaviors that are designed to minimize risk and enhance safety for consumers and Marriott associates alike." The council consists of senior executives, food science and infectious disease experts. Among the chain's plans:
• Disinfecting guest rooms and public areas with electrostatic sprayers using hospital-grade disinfectant (pictured above)
• Sanitizing guest room keys and shared employee devices with ultraviolet light technology
• Rearranging furniture to accommodate social distancing
• Positioning hand sanitizer at entrances, receptions, elevator banks, fitness centers and meeting spaces
• Providing masks and gloves to employees
Hilton
Hilton's CleanStay with Lysol protection program is working to develop new cleanliness and sanitation standards to roll out to its properties worldwide. The chain is partnering with Lysol and Dettol manufacturer RB on the program, and consulting with the Mayo Clinic to develop cleaning, training, education and quality assurance protocols. The chain already offers digital key technology for contactless check-in. Among the possible new protocols it is considering:
• Placing a room seal on guest room doors to signal that the room has not been entered since it was cleaned
• Thoroughly disinfecting guest room light switches, door handles, TV remotes and other often-touched items
• Replacing the clutter of pens, paper and guest directories with digital equivalents or making them available on request
• Limiting the number of guests allowed in fitness facilities at any one time and closing them for cleaning several times per day
• Offering disinfecting wipes at entrances, elevators and other high-traffic areas
Hyatt
Hyatt's Global Care & Cleanliness Commitment will include going through the Global Biorisk Advisory Council (GBAC) STAR accreditation process and employee training. Specific strategies under consideration include:
• Installing trained hygiene managers by September 2020 to ensure their hotel follows the new protocols
• Surveying employees to get feedback on the hotel's cleanliness, along with customer service levels and other parameters
• Looking into installing purification and sanitation devices to enhance air quality
• Making public areas conducive for physical distancing
• Cleaning all high-touch surfaces in guest rooms and public spaces frequently with hospital-grade disinfectant
Wynn Las Vegas
The Wynn health and sanitation plan includes:
• Thermal cameras at entry points to check guests and employees for fevers over 100 degrees F
• Rearranged public spaces to allow for six feet of social distancing
• Hand sanitizer at all high-traffic areas, including entrances, lobby, casino floor, meeting and convention spaces, pools and elevators
• Employee training on COVID-19–related safety and sanitation protocols
• Elevators limited to four guests per ride
• Check-in amenity bags with masks, hand sanitizer, and a COVID-19 awareness card
• Disinfecting wipes and sanitizer in all rooms (subject to availability)
The Venetian Resort
Also in Las Vegas, the Venetian reports its plans include:
• Thermal cameras at entry points and secondary screenings for those who register a temperature of more than 100.4 degrees F
• Guest goody bags of hand sanitizer, disinfecting wipes, gloves and face mask
• Team of 25 EMTs available 24 hours a day
• Social distancing guidelines for guests and physical distancing at slot machines and restaurants
• Possible use of UV light to disinfect packages, luggage and bell carts
• Hand sanitizer in high-traffic areas and at the Congress Center and the Sands Expo Center
Sandals
Sandals, which is reopening its resorts in Antigua, Grenada, Jamaica, St. Lucia and Turks and Caicos on June 4 (Sandals Bahamas is reopening July 1), also is rolling out enhanced cleaning protocols that include:
• Thrice-daily inspections of hard surfaces such as door handles and airport transfer vehicle interiors
• Cleaning public restrooms every 20 minutes and regular checks of all kitchens, bars, restaurants, pools, and hot tubs
• Cleaning guest rooms with hospital-grade disinfectants, electric aerosol sprayers and hand sanitizers
• Providing complimentary masks and gloves to guests
• Rolling out social distancing protocols for airport transfer vehicles, restaurants, bars, and beaches
In Related News
For hotels that aren't as far along in their "new normal" sanitation plans and are seeking guidance on where to begin, the American Hotel & Lodging Association (AHLA) recently released its Safe Stay guidelines, developed in accordance with CDC guidelines and subject to updating to reflect the most recent public health, and federal, state and local authority laws and recommendations. In its introduction to the guidelines, AHLA said, "Safe Stay will seek to change hotel industry norms, behaviors and standards to ensure both hotel guests and employees are confident in the cleanliness and safety of hotels once travel resumes."
It provides recommendations on hand washing and the use of hand sanitizer and personal protective equipment (PPE); front- and back-of-house signage reminding staff and guests about mask use and other hygiene best practices; how to respond to employee and guest health concerns and report confirmed COVID-19 cases to local health authorities; best sanitation practices for public spaces, guest rooms, laundry, back of the house, shared equipment, and F&B; physical distancing throughout all public areas and meeting and convention spaces; and how to train employees in COVID-19 safety practices, among other topics.
The California Hotel & Lodging Association (CHLA) also has recently launched its Clean + Safe program to provide guidance for its hotelier members. The comprehensive checklist includes guest and employee considerations, along with cleaning protocols, that members can implement and sign off on to be able to promote their properties as Clean + Safe certified. — Sue Pelletier
What can hotels and other meeting venues do to assure you that your staff, attendees, and other stakeholders will be safe and protected from the coronavirus at upcoming meetings and events? Email sue.pelletier@conferencedirect.com to share your thoughts for a future issue.
Free Subscription to
MeetingMentor Online
Continue
About ConferenceDirect
ConferenceDirect is a global meetings solutions company offering site selection/contract negotiation, conference management, housing & registration services, mobile app technology and strategic meetings management solutions. It provides expertise to 4,400+ associations, corporations, and sporting authorities through our 400+ global associates. www.conferencedirect.com
About MeetingMentor
MeetingMentor, is a business journal for senior meeting planners that is distributed in print and digital editions to the clients, prospects, and associates of ConferenceDirect, which handles over 13,000 worldwide meetings, conventions, and incentives annually. www.meetingmentormag.com
Design by: Loewy Design