Making Sense out of the Hotel Data Dump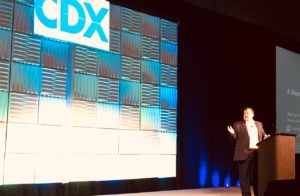 Data may be power, but data also can be a little daunting, especially for meeting professionals trying to make sense out of the flood of numbers that now flow regularly from hotel data firms.
Participants at CDX18, held in August in Cleveland, got some help wading through the numerical soup of occupancy, ADR (average daily rate, which is the rooms revenue divided by the rooms sold) and RevPAR (revenue per available room, or room revenue divided by the number of available rooms) from Ryan Lynch, business development associate, industry partners, for hotel market data and benchmarking firm STR.
The first thing meeting professionals need to understand, he said, is the relationship between hotel room supply, demand, occupancy, ADR and RevPAR.
Demand Dips and Market Corrections
Historic data reaching from 1990 to the present shows there were big demand dips in 1991 when the economic bubble burst, in 2001 after the 9/11 terrorist attacks, and in 2009 when the most recent recession hit. The most important thing to understand, according to Lynch, is that the market corrected itself within 18 to 24 months in each of these three instances. "After demand fell 7.1 percent in 2009, within 18 months it jumped to 7.8 percent [above prerecession levels] — a full 14-point swing in less than two years."
Today the market overall is showing 3.9 percent growth in demand and 1.9 percent growth in supply, so be prepared for more new guest rooms coming on the market. "Supply follows demand, which makes sense: When we enter an economic downturn, we see supply very quickly follow suit," Lynch said. "Then, as things begin to get better, people are more willing to build hotels."
When occupancy — the number of rooms that are sold divided by the number of available rooms — begins to grow again after a dip, ADR tends to follow with an increase as well, though not as much as it once did. When occupancy growth rates in 1991 dipped to -3.4 percent and then rebounded, the ADR growth rate bounced as high as 6.8 percent, which was much higher than the top occupancy growth rate at the time. Similarly, when occupancy rates fell after 9/11, ADR grew 7.5 percent within that two-year window, which was twice as high a jump as the occupancy growth rate that prompted ADR to increase.
"We're not seeing that type of performance in this cycle," Lynch noted. That's because online travel agencies now make it easy for people to compare rates over hundreds of brands; in the early 1990s, people just called a few properties before making a decision. As a result of the growth of online booking sites, "hotels have become much more competitive and are more rate-focused in the current cycle," he said. Hotel room rates these days are actually pacing the Consumer Price Index, meaning that room rates are growing at pretty much the same rate as other consumer goods.
RevPAR is riding a 100-plus-month high since this expansion cycle started in March 2010, he added. The 5.8 percent average monthly RevPAR growth we're seeing now is being driven by a high demand growth of 3.4 percent per month on average, a low supply growth of 1 percent on average and a monthly average ADR growth rate of 3.4 percent.
Breaking It Down by Hotel Class
While demand is higher than available supply across hotels in every class — from luxury, upper upscale and upscale through upper midscale, midscale and economy — it's most noticeable in the luxury segment, where increase in demand is outpacing supply growth 3.4 percent to 2.2 percent.
"With demand outpacing supply, we will always see occupancy percent change as well as ADR growth," Lynch said. "The largest occupancy growth is in that luxury segment, and the [increase in] ADR is almost 3 percent this year [through July] for luxury properties. Upper upscale, upscale and midscale are all seeing less than 1 percent occupancy growth, but they are seeing around 2 percent growth in ADR. Economy properties, even though the number of properties is going down, have a 3.2 percent ADR growth rate, so that's one to keep your eye on."
Occupancy rates have grown year over year, with upper upscale properties selling almost three out of every four available rooms. Luxury properties are over 72 percent occupied as of July 2018, up from 71 percent in July 2017. Midscale properties are averaging 61.6 percent, and economy hotels show 59.5 percent occupancy, compared to 59 percent last year, according to Lynch. — Sue Pelletier
Free Subscription to
MeetingMentor Online
Continue
About ConferenceDirect
ConferenceDirect is a global meetings solutions company offering site selection/contract negotiation, conference management, housing & registration services, mobile app technology and strategic meetings management solutions. It provides expertise to 4,400+ associations, corporations, and sporting authorities through our 400+ global associates. www.conferencedirect.com
About MeetingMentor
MeetingMentor, is a business journal for senior meeting planners that is distributed in print and digital editions to the clients, prospects, and associates of ConferenceDirect, which handles over 13,000 worldwide meetings, conventions, and incentives annually. www.meetingmentormag.com
Design by: Loewy Design