Tag and Post These 5 Hot Meeting Trends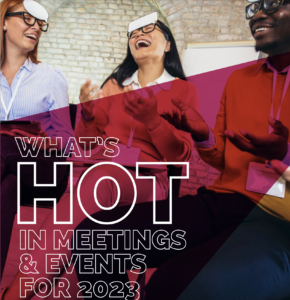 Knowland recently partnered with global hospitality company Aimbridge  Hospitality to find out what's trending in meetings and events, as gauged by U.S. sales and catering staff. Here are five trends they identified, from Instagrammable events to the return of teambuilding activities — with a twist.
No one has the inside scoop on meeting trends more than those who service meetings and events. That's why industry data tracker Knowland teamed up with global hotel management company Aimbridge Hospitality to survey its U.S. sales and catering staff to get their boots-on-the-ground insights into what's hot in meeting trends right now.
Hot Trend #1: Borderless Events
Forget the traditional, and somewhat stale, theater, classroom and all-day meetings — today's meeting organizers are shaking things up to engage the audience and create "connection" moments that will keep attendees attentive and networking. It could be bringing in some adorable puppies to cuddle or creating borderless spaces for networking. It could be incorporating wellness breaks and cool water stations with intriguing flavored waters, or unique table setups. It could be moving the keynote to the end of the day. The ways groups are changing things up are as varied as the groups, but the one thing everyone wants now is to "provide the illusion of a barrier-free meeting zone."
Hot Trend #2: Tag-and-Post Moments
If your event isn't Instagrammable, it isn't happening. Or at least, it isn't a happening event, sales and catering staff report. Taking a cue from Instagram and cooking shows, meeting planners are looking to catering staff to provide curated, branded "sparkler moments," especially when it comes to food and beverage. "Creating that moment when everyone takes out their phone to snap a post, a selfie or the perfect foodie shot mean success for all involved."
Think order-ahead meals instead of banquets, historical or regional menu items, small bite plates and unique presentations — and in-demand items like butter boards, vegan cuisine, and artistic sugar displays. With the food supply chain still in turmoil, event catering is moving more toward local sourcing to try to keep costs down for planners. Champagne towers and fruit-infused water stations also can provide some Instagrammable moments — just don't forget to provide tagging info along with branding for both the event organizer and the host property so everyone following on social media will know who gets the kudos for all that coolness. Need some inspiration? "Ice cream that looks like fried chicken but tastes like salted caramel lends perfectly to an Instagram-friendly moment."
Hot Trend #3: Location, Location, Location
What used to be a mantra for realtors now is doing double duty for meeting and event organizers, according to the report. Locally sourced and themed menus, décor that riffs on local attractions, and even local food trucks with some quirkier local fare are all hot right now, as are partnerships with local juicers, coffee makers and ice creameries.
Hot Trend #4: Get Out
As working from home continues to hold sway in corporate America, more small executive get-togethers are happening than in the past. But that doesn't necessarily mean they'll be booking the boardroom. Sales and catering teams are seeing more requests for more interesting places for these leadership meetings and in response are converting non-traditional restaurant spaces and outdoor patios into gathering spots. They do need to ensure those spaces have impeccable, lightning-fast WiFi and streaming capabilities though. As Courtney Jordan, Associate Director of Sales with The Westin Chicago Northwest says in the report, "We have always had to think outside the box, but today there is no box."
Hot Trend #5: Teambuilding Is Back (But Better)
Another follow-along to the work-from-home trend is the need to solidify teams with in-person teambuilding experiences. Don't worry, you won't see trust falls and talking sticks (unless your group wants those). The new teambuilding is going to be more centered around standalone, locally themed beverage stations and destination-driven experiences, according to the report. Instead of the usual networking reception, think a "games and graze" event, or building cardboard boats to race across the hotel pool, or competitions that pit teams against each other to come up with the best margarita, salsa or guacamole. Some groups go with how-to sessions, such as learning how to craft cool cocktails from a mixologist, or taking a cooking class with a chef.
"Cooking competitions that mimic the latest reality shows are popular because attendees learn something new and build stronger bonds with teammates," says Janet Davis, Director of Group Sales, The Westin Chicago North Shore.
Corporate social responsibility (CSR) also is hot right now, with groups requesting experiences that give back to the local community. Building is popular, with groups looking to put together everything from bikes to first-responder kits to back-to-school backpacks.
What's trending for your event? Share your ideas with MeetingMentor's readers by contacting Sue Pelletier at sue.pelletier@conferencedirect.com.
Free Subscription to
MeetingMentor Online
Continue
About ConferenceDirect
ConferenceDirect is a global meetings solutions company offering site selection/contract negotiation, conference management, housing & registration services, mobile app technology and strategic meetings management solutions. It provides expertise to 4,400+ associations, corporations, and sporting authorities through our 400+ global associates. www.conferencedirect.com
About MeetingMentor
MeetingMentor, is a business journal for senior meeting planners that is distributed in print and digital editions to the clients, prospects, and associates of ConferenceDirect, which handles over 13,000 worldwide meetings, conventions, and incentives annually. www.meetingmentormag.com
Design by: Loewy Design