Women@CD Meet to Strategize and Collaborate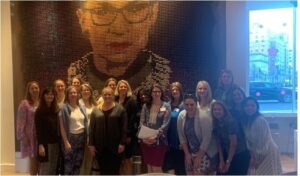 ConferenceDirect's Women@CD, a committee formed to strategize how to elevate women in the meetings and events industry, held a strategic planning retreat this spring at Hotel Zena, a Viceroy Hotels & Resorts property in Washington, D.C. Because about three-quarters of ConferenceDirect's associates are women, the committee was formed to provide a trusted forum for female associates to collaborate, share, and support one another while promoting personal and professional development through education, self-discovery, wellness and learning opportunities.
The two-day event, held just after Women's History Month, included a keynote by Viceroy Hotels & Resorts' Chief Financial Officer Hilda Delgado. "As a female, it was incredible to be able to connect and discuss strategies with female entrepreneurs on how we can further support and encourage other women to advance in their careers," she said. "We look forward to continuing the conversation and keeping the momentum going." Delgado's keynote message supported the Retreat's theme of Women Supporting Women as she discussed her career path to the C-suite.
Beth Hoffman, ConferenceDirect Vice President, Global Accounts, got the idea to host the event at this specific hotel while attending a Viceroy luncheon in Southern California last fall. The hotel features more than 60 art installations, including a shattered glass ceiling and a wall of sequins made of protest buttons, designed to send a message of female empowerment and heped spark conversations among the Women@CD committee members in attendance.
"Everyone felt appreciated and heard; and felt like we were moving our passion and purpose forward," said Women@CD Committee Chair Kelley Beaudoin, ConferenceDirect Vice President of Global Accounts.
Free Subscription to
MeetingMentor Online
Continue
About ConferenceDirect
ConferenceDirect is a global meetings solutions company offering site selection/contract negotiation, conference management, housing & registration services, mobile app technology and strategic meetings management solutions. It provides expertise to 4,400+ associations, corporations, and sporting authorities through our 400+ global associates. www.conferencedirect.com
About MeetingMentor
MeetingMentor, is a business journal for senior meeting planners that is distributed in print and digital editions to the clients, prospects, and associates of ConferenceDirect, which handles over 13,000 worldwide meetings, conventions, and incentives annually. www.meetingmentormag.com
Design by: Loewy Design