New Research Shows Bookings — and Budgets — on the Rise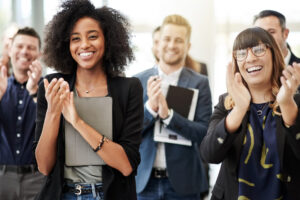 A lot more heated up this summer than just the temperatures. According to the latest Planner Pulse survey from AV and virtual/hybrid platform provider Encore, more planners are now booking and/or sourcing new events than at any time since the COVID-19 pandemic first hit in the spring of 2020. More than half — 55% — of the 750 event professionals Encore surveyed in June said they were already booking new events. Another 16% said they were actively sourcing new events with RFPs, while another 16% were actively sourcing but not quite RFP-ready yet. The number of respondents who said they were focused on rescheduling or rebooking — something they did all too much of in the early days of the pandemic — also are the lowest they've been since spring 2020.
In even better news, this is a trend that is likely to last long after the beach towels and sunscreen are put away for the season: The outlook for in-person events specifically is looking strong. Eighty percent of the respondents said they expected to have an in-person audience for their 2022 events — and the percentage of those with in-person events grows as the year goes on, from 56% saying they were planning an in-person event in Q3 2022, to 59% saying the same for Q4, and 60% planning in-person events for Q1 2023. The number of those expecting to bolster their in-person attendance with remote audiences stayed at a steady 22% over the same period of time, while those planning online-only events dropped from 22% in Q3 2022 to 19% in Q4 and 18% in Q1 2023.
Not surprisingly, given the ongoing economic situation, the Encore survey also found that planners are expecting to have to increase their budgets to take inflation and supply chain challenges into account. Most said they expected to have to make the biggest increases in their transportation and food and beverage spend. Fifty-eight percent said they expected to spend more on F&B for their future events, while 59% said their line items for air and ground transport were trending upward. They also were expecting hotel room rates to be on the rise, with 11% expecting a significant bump in spend on rooms and another 37% thinking they would have to spend at least a bit more in this budget category than in the past.
Planners also expect to pay more for AV and event technology for upcoming events, with 53% expecting at least a slight increase in in-room AV and event tech costs and 40% saying the same for production services.
But perhaps the increasing expenses will pay dividends in key success metrics such as in-person engagement, networking and personalization. The June survey found a big jump in those who believe their upcoming in-person events will be better equipped to engage attendees — 45%, compared to just 29% who said the same in Encore's spring 2022 survey. Acknowledging that networking is even more important now after pandemic-induced isolation and a burgeoning work-from-home corporate environment, 38% of planners said they planned to provide more networking, compared to 25% in the spring survey. Increased personalization also will be on the agenda for 37% of respondents. And, while more than a third are still expecting to attract a smaller in-person audience than they did pre-pandemic, they plan to make up for it with more advanced content delivery and an enhanced outreach to a larger remote audience than in the past.
Free Subscription to
MeetingMentor Online
Continue
About ConferenceDirect
ConferenceDirect is a global meetings solutions company offering site selection/contract negotiation, conference management, housing & registration services, mobile app technology and strategic meetings management solutions. It provides expertise to 4,400+ associations, corporations, and sporting authorities through our 400+ global associates. www.conferencedirect.com
About MeetingMentor
MeetingMentor, is a business journal for senior meeting planners that is distributed in print and digital editions to the clients, prospects, and associates of ConferenceDirect, which handles over 13,000 worldwide meetings, conventions, and incentives annually. www.meetingmentormag.com
Design by: Loewy Design