F2F Still Rules, But Digital Is Gaining Ground
While the world has been forced into meeting on-screen due to the global COVID-19 pandemic, recent research confirms what most event professionals have to date staked their careers on: Both attendees and exhibitors overwhelmingly prefer to meet face to face. The data — collected from more than 9,000 respondents from 30 countries by live events research firm Explori, in partnership with UFI, the Global Association of the Exhibition Industry and supported by SISO, the Society for Independent Show Organizers — also confirms that networking is particularly better suited for in-person events, according to 77% of exhibitors and 83% of participants.
That's not to say that the world's recent forced foray into digital events won't have a lasting impact. With about half of respondents having now experienced some type of online-only event, and two-thirds of exhibitors having either been featured as a speaker at a third-party event or having run their own online event, the benefits of online is becoming clearer. In addition to the obvious advantage of being much less expensive to attend, more than half — 52% — said the content of online events was as good as, if not better than, what they have experienced at face-to-face events.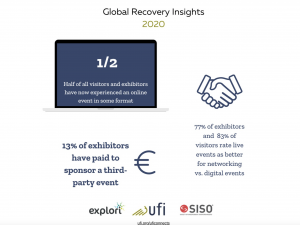 In fact, 79% said they'd be at least somewhat interested in attending a hybrid event as an online-only attendee in the future — especially for an event they had never attended before. However, while exhibitors might find the online event intriguing, they're not putting their dollars on the line in a big way just yet: Only 13% of exhibitors said they had paid to sponsor a third-party online event.
Sophie Holt, Global Strategy Director, Explori, said, "Online and hybrid seem to have a complementary role to play alongside live events. Not only will they give reassurance to visitors who are concerned about safety in the short term, but still want to connect with their community, but they may also have an important role to play in bringing new audiences to established events." — Sue Pelletier
For more, check out the UFI Connects webinar series.
Free Subscription to
MeetingMentor Online
Continue
About ConferenceDirect
ConferenceDirect is a global meetings solutions company offering site selection/contract negotiation, conference management, housing & registration services, mobile app technology and strategic meetings management solutions. It provides expertise to 4,400+ associations, corporations, and sporting authorities through our 400+ global associates. www.conferencedirect.com
About MeetingMentor
MeetingMentor, is a business journal for senior meeting planners that is distributed in print and digital editions to the clients, prospects, and associates of ConferenceDirect, which handles over 13,000 worldwide meetings, conventions, and incentives annually. www.meetingmentormag.com
Design by: Loewy Design