When a Hurricane Hits your Fam Trip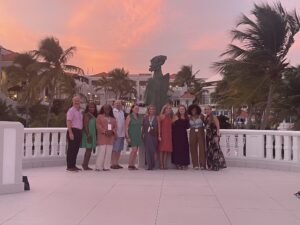 When Hurricane Fiona made landfall in Puerto Rico's southwest region on September 18, a small group of ConferenceDirect associates and a client were already a couple of days into a fam trip to the island — though all had been keeping a wary eye on the weather forecast.
Fiona, which was just beginning to take shape as a storm of concern and had a wide "spaghetti model" path when participants boarded their planes on Sept. 15, was a concern, but not an overwhelming one. As ConferenceDirect Global Account Executive Mark Buonagurio said, "The path of Fiona was still not perfectly determined, and it was still just forming into a tropical storm, so I didn't consider cancelling." CD Global Account Executive Sonja Haddad added, "I reached out to the CVB and was made aware that they were following the updates closely. The time, energy and resources utilized to execute a fam should never be taken lightly. If they were willing to proceed then I should be as well, with the assurance that safety was a priority."
As it turns out, none of the seven participants backed out of the trip, which was organized by the island's destination marketing organization Discover Puerto Rico. And the first few days went exactly as planned, with participants visiting top meeting properties including their host property, the El Conquistador Resort (with a day trip to the exclusive Isla Palaminos island just off the coast of Fajardo), the Wyndham Grand Rio Mar Puerto Rico Golf & Beach Resort, the Hyatt Regency Grand Reserve, the Royal Sonesta San Juan, the Caribe Hilton, the Condado Vanderbilt Hotel, and the Concha Renaissance Resort.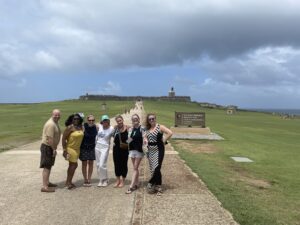 As Tropical Storm Fiona morphed into a hurricane and made landfall, Discover Puerto Rico stayed on top of the situation, sharing critical updates through its website, social platforms (Facebook, Twitter, Instagram) and on the destination website's travel advisory, with an easy-to-understand product tracker infographic, indicating the status of popular places and attractions in the following days.
"I was definitely concerned, and I considered departing early," said Global Account Executive Taylor Miller. "However, I decided that Discover Puerto Rico and the properties put a lot of time and energy into making this visit and experience for us, I wanted to respect that by finishing out the fam." And Miller is glad she did. "All the hotel employees and our hosts radiated calmness and preparedness, which definitely put my mind at ease."
Grace Under Pressure
Led by hosts Yarimar Vasallo, Destination Experience Manager for Discover Puerto Rico, and Yolanda Gonzalez, Director of National Accounts for Discover Puerto Rico, the group was at El Conquistador on Sunday when the hurricane hit the island full force. But even before Fiona developed into a hurricane, the hotel relocated the buyers, staying in the recently remodeled Marina Deluxe rooms, to the Brisas building on its property, which sits 300 feet above sea-level, as a precaution. Once the storm intensified, Discover Puerto Rico quickly adjusted the remaining itinerary, shifting flights home to Tuesday and relocating the group to the Royal Sonesta, which is closer to the Luis Muñoz Marín International Airport, for their final night's stay. By Monday afternoon, less than 24 hours after the storm made landfall, the airport was open and running on schedule.
Having learned from previous experience with natural emergencies, El Conquistador Resort's infrastructure includes generators that which can operate 100% of the resort if needed, and water cisterns which can support the resort for several days. The property also housed key employees, supervisors and managers on site so the resort could operate as usual.
Safe and Secure
"I felt safe throughout the experience because the staff of the El Conquistador communicated frequently regarding their emergency preparedness," Buonaurio said. "Luis Mendez, the Complex Director of Sales and Marketing, had let us know at least a day before that, out of an abundance of caution, they would be moving us to different rooms on higher ground – and their staff would take care of moving our bags while we were siting other hotels. Their generators worked as planned, and several members of their staff stayed at the hotel to keep operations running smoothly."
Haddad added, "The communication was seamless, the safety measures put into place (well in advance) were noticeable — it became abundantly clear to me that the hotels, their staff and their leadership knew exactly what they are doing to prepare the properties for this scenario." She also gave a shout-out to the property's engineering team, which "was poised and positioned for the power to go down on the island and made preparations for the hotel generators to transition safely," she said. "The General Manager was watching over everything, greeting guests with a smile, much like the captain of a ship. The housekeeping department was armed with mops and towels and arrived at the guest rooms immediately when someone called for assistance with water. Security was present and monitored all entryways to ensure guests were able to travel through the property safely."
"If I was asked, what made the difference during that weekend, my honest answer is, the resort's infrastructure, of course, but also our team members, who went above and beyond their call of duty to service our guests and at the same time, kept our areas clean and safe," said El Conquistador's Luis Mendez.
Handling the Curve Balls in Style
"When you feel safe, you can laugh at the crazy curve balls that life throws your way," said Haddad. "We shared countless moments of laughter with the staff and our fellow CD colleagues. We even conducted a strategy meeting with the hotel and CVB leadership, while Fiona was in full force and the power was out on the island. Inside that meeting room, you wouldn't have even known there was a major event taking place outside."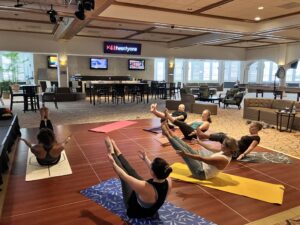 Among the more memorable hurricane-related moments, Miller said, was "taking a yoga class from the amazing Yari with my fellow CD colleagues in the middle of a hurricane. Hearing the wind raging outside while in downward facing dog was oddly cathartic." Even when lightning struck too close for comfort, the group still shared a big laugh when the next round of cancelled flights were received via text, said Haddad.
Miller said, "The experience is one I won't forget. I can check 'Being in a Hurricane' off my bucket list. All jokes aside, Puerto Rico was a really beautiful experience.  Each of the properties we toured were unique, and the people I encountered were all absolutely lovely." Buonagurio agreed, saying, "The experience was exceptional. One notices the beauty of Puerto Rico first, but the overall friendliness of the people we met everywhere was most memorable — the people of Puerto Rico take great pride in their home and being hospitable to guests. The number and variety of quality hotels that service groups, and the amount of meeting space they offer, was notable. We also had so many fantastic meals!"
He added, "I wouldn't hesitate to recommend Puerto Rico to a customer. There are plenty of direct flights from major cities, the airport experience was good, the hotels were fantastic and easy to access, there are lots of activities available, and it's a beautiful island.
"Most importantly, in the face of adversity, the hotels showed they were prepared with contingencies and executed successfully against those plans," he said. Haddad agreed, saying, "I have already begun explaining to my clients that Puerto Rico is an excellent solution for their conference needs. The natural beauty this island offers is unparalleled, and they clearly know how to overcome big unexpected challenges!"
Free Subscription to
MeetingMentor Online
Continue
About ConferenceDirect
ConferenceDirect is a global meetings solutions company offering site selection/contract negotiation, conference management, housing & registration services, mobile app technology and strategic meetings management solutions. It provides expertise to 4,400+ associations, corporations, and sporting authorities through our 400+ global associates. www.conferencedirect.com
About MeetingMentor
MeetingMentor, is a business journal for senior meeting planners that is distributed in print and digital editions to the clients, prospects, and associates of ConferenceDirect, which handles over 13,000 worldwide meetings, conventions, and incentives annually. www.meetingmentormag.com
Design by: Loewy Design