ConferenceDirect's Inaugural DEI Conference a Welcome Success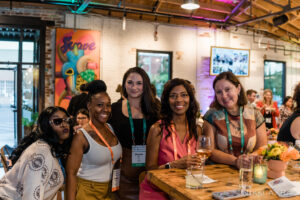 How does diversity, equity and inclusion (DEI) integrate into meetings, events, and the business trends shaping the industry today? That's what a diverse group of select ConferenceDirect corporate and association clients, associates and industry partners gathered in Denver last month to learn. Held Aug. 29–Sept. 1 at the Hilton Denver City Center, ConferenceDirect's inaugural DEI-focused conference, dubbed D22, also offered plenty of opportunities for participants to learn from each other in both formal sessions and informal networking gatherings.
"For our first event we feel we made great headway," said ConferenceDirect  CEO Brian Stevens, who opened the conference with a discussion of why DEI is — or at least should be — at the center of meetings and events. He was joined by Kristen Wells Scott, Senior Director, DEI, with Hilton, who addressed how participants can prepare their organizations for the future using a DEI lens. She then was joined by Inclusion and Peak Performance Facilitator Darrell Hammond, Sr., for a fireside chat on attracting and developing a diverse workforce.
The next day's general sessions delved deeper with a panel of clients sharing case studies on their DEI journey, as well as a panel conversation on how DEI affects both corporate and association meetings.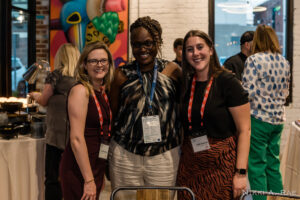 Among the breakouts were a series of roundtable discussions on related topics, from aligning language with DEI commitment to creating an office/company culture for diverse teams to incorporating DEI into vendor selection and collaborations with local destination stakeholders. Interspersed with DEI-specific topics were other industry hot topics, from collaborating with hotels post-pandemic to measuring sustainability for events.
Participants also had the opportunity to take part in a powerful CSR experience designed to illustrate the importance of individual contribution within a team. Attendees worked together to recreate an artistic scene that captured the essence of DEI initiatives. The completed Mosaic Mural will be installed at a facility run by the Family Promise of Greater Denver (FPGD) Facility, which provides a range of services for people experiencing a housing crisis or homelessness.
The social and dinner events also had a distinct DEI emphasis, with one off-site dinner held at Raíces Brewing Co., a Latino-owned and -operated brewpub that connects its guests with Latino culture as well as quality craft beer and entertainment. The final evening was capped with an outside dinner at the Hilton Inverness and a dessert reception overlooking the golf course — with some fun activations on the property's Breckenridge Brewery Patio.
The conference was "Time well spent — from gaining insights from the roundtable discussions to networking with fellow event professionals, it will help me enhance future event planning tactics!" said Kecia Vorhees, Event & Outreach, Moody's Analytics.
"I was proud ConferenceDirect took the lead once again in showing that we're not just talking about DEI but we actually want to be better," said Ricky Hopkins, Vice President of Global Accounts, ConferenceDirect, adding that D22 serves as a great example. "My customers found the content of value as did I and my fellow ConferenceDirect associates. Thank you Hilton for partnering with us on this important topic and not being afraid to answer the tough questions that came up in our discussions," he said.
The inaugural D22 was just one step in an ongoing journey, said Stevens of the company's continuing commitment to DEI in the meetings and events industry. "This is a journey rather than a destination and we will repeat it in 2023."
Free Subscription to
MeetingMentor Online
Continue
About ConferenceDirect
ConferenceDirect is a global meetings solutions company offering site selection/contract negotiation, conference management, housing & registration services, mobile app technology and strategic meetings management solutions. It provides expertise to 4,400+ associations, corporations, and sporting authorities through our 400+ global associates. www.conferencedirect.com
About MeetingMentor
MeetingMentor, is a business journal for senior meeting planners that is distributed in print and digital editions to the clients, prospects, and associates of ConferenceDirect, which handles over 13,000 worldwide meetings, conventions, and incentives annually. www.meetingmentormag.com
Design by: Loewy Design