Customs Entry
Mobile Passport Control App
In Pilot Program at Atlanta Airport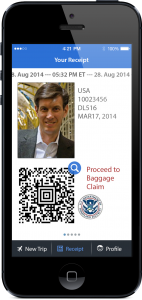 A faster, more secure and efficient way to move through customs entry is coming for U.S. citizens and Canadian visitors.
U.S. Customs and Border Protection (CBP) began a pilot program of its new Mobile Passport Control (MPC) app on August 13 at Hartsfield-Jackson Atlanta International Airport. The app is available to iPhone and iPad users through the Apple App store; a version for Android smartphone users is planned for later in the fall. Once the pilot is completed, CBP will expand the program to other U.S. airports. No list is ready to be announced.
One immediate fix to date: While the app does not collect any new information on travelers, it does require that the profile information the traveler enters matches exactly the traveler's passport information — no nicknames or deviations, said Jennifer Evanitsky, CBP spokesperson. The user interface is being changed to make this clear.
How the app works: Those who are eligible are encouraged: (1) to download the app and (2) to create a profile in advance of their initial departure from the U.S. (for U.S. passport-holders) and from Canada to the U.S. (Canadian passport-holders). On landing in the U.S. (right now only in Atlanta) they then need: (3) to sign in and complete the customs declaration form in the "New Trip" section of the app. A photo is required, so be prepared with one or take a "selfie." The next step is: (4) to submit the customs declaration form through the app to receive an electronic receipt with an encrypted Quick Response (QR) code. This receipt will expire four hours after being issued. Then, travelers (5) bring their passport and smartphone or tablet with the digital bar-coded receipt to a CBP officer.
Travelers must have a Wi-Fi or cellular network connection to use the app to submit their customs declaration form and receive the QR code receipt. Travelers can use the app to complete their profile without being connected to Wi-Fi or a cellular network. MPC does not replace a passport. Up to three additional profiles can be created for family members, so that families of four can submit a single customs declaration form.
Information about the Mobile Passport Control app (sponsored by the Airports Council-International North America), including instructions on how to download, user eligibility and other questions, is available at CBP.gov/travel. — Maxine Golding
Free Subscription to
MeetingMentor Online
Continue
About ConferenceDirect
ConferenceDirect is a global meetings solutions company offering site selection/contract negotiation, conference management, housing & registration services, mobile app technology and strategic meetings management solutions. It provides expertise to 4,400+ associations, corporations, and sporting authorities through our 400+ global associates. www.conferencedirect.com
About MeetingMentor
MeetingMentor, is a business journal for senior meeting planners that is distributed in print and digital editions to the clients, prospects, and associates of ConferenceDirect, which handles over 13,000 worldwide meetings, conventions, and incentives annually. www.meetingmentormag.com
Design by: Loewy Design