How Do You Know Your Tradeshow Is Successful?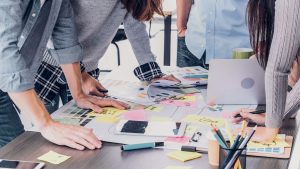 Almost three-quarters of association executives and event management professionals who participated in a recent survey said that growing their tradeshow is a key ingredient in their organization's overall strategic plan. Which is not surprising, given that gross revenues from their tradeshows constituted 20% to 40% of total revenues for half of those surveyed, with another 25% each saying it generated more than 60% or less than 20%.
And yet, a full 49% also said they do not have a strategic plan on just how that growth is going to happen. And even among those who said they do have a strategic plan specifically for their tradeshow, 41% said their plan lacks explicitly defined metrics by which to measure success, and 20% of those who do have metrics don't communicate what those might be to their staff. In all, more than two-thirds of the 100 associations surveyed recently by general services contracting company T3 Expo, executive recruitment firm Heidrick & Struggles, and George Mason University lack both a plan and metrics.
Setting Goals
While they may not have a roadmap in place to get there, they do appear to have qualitative and quantitative goals in mind for their tradeshows, according to the survey. The executives said their boards ranked number of attendees as their top priority for measuring success, followed by net square footage sold.
Interestingly, respondents rated overall attendance numbers almost three times higher than qualified attendance, and they rated reinforcing and building on existing relationships higher than making new contacts and sharing best practices.
But, even given their attendance and revenue priorities, while 48% said they measure association member and nonmember participation, a full 25% said they do not. Another 22% said that, while they do look at participation rates for both groups, they do not analyze the resulting revenue. And, while they know they want to grow revenues and profitability related to their tradeshows, only 67% of those who do have a strategic plan said they include metrics to measure multiyear revenue growth.
"Setting higher expectations among team members and long-range revenue goals could help mean higher revenue performance," said the report.
Other success factors that participants wrote in on an open-ended question included diversity, exhibitor buy-in and support, member satisfaction, exhibitor evaluations, strong content, member engagement, and reputation.
Fifty-six percent of those surveyed represent 501(c)(6) associations; 44% are from 501(c)(3). Most have budgets of less than $10 million, while only 9% reported having budgets exceeding $60 million. — Sue Pelletier
Free Subscription to
MeetingMentor Online
Continue
About ConferenceDirect
ConferenceDirect is a global meetings solutions company offering site selection/contract negotiation, conference management, housing & registration services, mobile app technology and strategic meetings management solutions. It provides expertise to 4,400+ associations, corporations, and sporting authorities through our 400+ global associates. www.conferencedirect.com
About MeetingMentor
MeetingMentor, is a business journal for senior meeting planners that is distributed in print and digital editions to the clients, prospects, and associates of ConferenceDirect, which handles over 13,000 worldwide meetings, conventions, and incentives annually. www.meetingmentormag.com
Design by: Loewy Design