Association Meetings Are Back — With New Priorities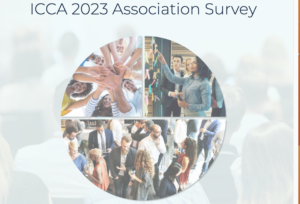 Just as associations are finally able to get back to meeting post-COVID, today's economic and geopolitical turmoil are posing new challenges. According to a recent survey, sustainability is at the top of most association meeting organizers' lists — as is rethinking how to balance in-person and hybrid events, and expanding revenue streams.
The good news is that more than half of the 177 associations around the world surveyed earlier this year said they are back to holding in-person meetings and events, thanks to COVID's shrinking effect on the global meetings market. In 2021, just 14% said their largest meeting would be in person; this year, more than half said their 2023 meetings would be held in person, while 30% said they were going hybrid this year. Less than 5% were going solely digital in 2023, compared to 12% last year and 56% during the pandemic's height in 2021.
However, the ICCA 2023 Association Survey, conducted earlier this year by ICCA in collaboration with the European Society of Association Executives (ESAE), the African Society of Association Executives (AfSAE) and the Asia-Pacific Federation of Association Organizations (APFAO), also found that things have changed a bit since associations held their meetings pre-COVID.
Associations today find that their priorities, and their meetings, have changed to adjust to incorporating hybrid events and digital learning access into their post-COVID business models. Associations also are making sustainability a top priority, both in their meetings and in their operations, as well as diversity equity and inclusion (DEI).
Sustainability Now a Top Priority
The researchers conducted a similar survey in 2022, and when they compared this year's results to those found last year, one big strategic shift was that 83% of associations now are focusing on sustainability. But the definition of sustainability also has broadened. While environmental sustainability is top of mind, associations also are keyed in on becoming more economically sustainable in their own business practices. This means finding new ways to service their members and new ways to increase their membership base.
In terms of environmental sustainability, associations want the meetings industry to work together by sharing best practices with peers and suppliers, as well as working with Net Zero Carbon Events and other industry sustainability initiatives.
Another priority is to figure out how digital and hybrid meetings work into their overall event strategy now that they're coming back to in-person events. Respondents said that want to keep the ability they gained during the pandemic to digitally reach a wider audience — but not at the risk of taking away attendees who otherwise would come to their in-person conventions. Most of the almost-50% who said they would be changing their RFPs in the near future indicated those changes would include digital and hybrid options and sustainability.
DEI is a key element to the self-sustainability strategic priority for most associations, the survey found. This ties into the need to expand their membership base, which means they are looking into expanding into new regions and previously overlooked market segments, as well as draw in next-generation members. Approximately 80% said they had a DEI policy in place or in progress — and they are well aware that those policies will need to dovetail with their overall efforts to boost membership with expanded services and improved engagement and retention.
In general, associations' top priorities are member/community development and engagement, knowledge transfer/education/training, congress and event development, geographical expansion, revenue growth/diversification and financial stability.
Meetings Remain Top Revenue Source
In 2022, meetings, trade shows, exhibitions and events were the top revenue source for associations — and that is even more true this year, with a 3% increase in associations putting meetings at the top of their revenue column year over year, from 43% last year to 46%. Both last year and in 2023, membership dues and publications, advertising and sponsorships came in second and third, respectively.
But associations are still feeling the hangover from the pandemic-era shutdown of meetings and events, making them feel an increasing need to diversify that traditional meetings revenue stream. This means rethinking the traditional role of in-person event sponsorships. Associations now say their focus is more on monetizing year-round digital access to evergreen educational content, in addition to producing digital and hybrid events along with in-person meetings.
While they recognize the need to change things up when it comes to their meetings and events programs, they still are dealing with trying to manage the costs of going hybrid and adding digital-only events, managing on-site and online attendance, introducing new formats and, of course, doing it all as the cost of holding both in-person and hybrid events continue to escalate.
Free Subscription to
MeetingMentor Online
Continue
About ConferenceDirect
ConferenceDirect is a global meetings solutions company offering site selection/contract negotiation, conference management, housing & registration services, mobile app technology and strategic meetings management solutions. It provides expertise to 4,400+ associations, corporations, and sporting authorities through our 400+ global associates. www.conferencedirect.com
About MeetingMentor
MeetingMentor, is a business journal for senior meeting planners that is distributed in print and digital editions to the clients, prospects, and associates of ConferenceDirect, which handles over 13,000 worldwide meetings, conventions, and incentives annually. www.meetingmentormag.com
Design by: Loewy Design