6 Ways to Innovate the Event Experience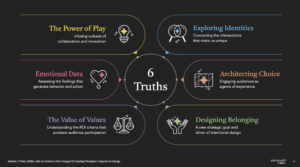 New research from PCMA, CEMA and Marriott International points to six principles that meeting and event professionals can lean on to create more experiential events.
Marriott International, the Professional Convention Management Association (PCMA) and the Corporate Event Marketing Association (CEMA) took a deep dive into what drives consumer behavior to come up with truths — as opposed to trends — meeting and event planners will be able to use to guide their event experience design efforts now and into the future. The resulting report, ""Guiding Principles in Experience Design," lays out six of these truths, which also were discussed at Marriott's The Exchange: Association Masters Customer Experience.
"Business event professionals are looking to provide innovative experiences that break the mold for meetings and drive lasting results with their event attendees and clients," said Tammy Routh, Senior Vice President, Global Sales, Marriott International. "Consumer patterns, behaviors, and motivators are constantly evolving, and we are excited to provide insights our customers have been asking for through this new research."
The research process itself was a bit innovative, beginning with 60 one-on-one interviews, followed by roundtables of global experience design thought leaders. These experts took the trends found in the interviews and looked at ways those trends could be culled into truths that could be integrated into event strategies. Storycraft Labs, which conducted the research, then synthesized the findings into these six guiding principles:
1. Exploring Identities: People want to celebrate their uniqueness while also finding ways to connect with other individuals and communities. "You have to be okay with being uncomfortable and putting yourself out there – create conversations and camaraderie with people, hear other people's points of view. We need to be more intentional about creating safe spaces to facilitate this and create a sense of community to enable it," said Jessica Charles, Vice President, Programming + Events, Forbes. Three themes emerged from the research in this area. One is the importance of networked communities, where people can engage with diverse opinions outside of their usual "bubble" to find more ways they intersect with, and connect with, others. Another is the value of including local connections, such as local chapters, satellite groups and local communities, in a larger engagement strategy. The third is the need to get people out of their comfort zones, be they geographic, ethic or racial, to learn from hearing different viewpoints and ideas. As Megan Henshall, Events Strategic Solutions Lead, Google, said in the report, "Our job is to create a safe environment that will encourage people to stretch outside of their comfort zone. It's also really tricky to do. I would love to see more behavioral science research across our discipline to tell us how to do that well and use that science to our advantage. There is a gap there, and it's such an opportunity."
2. Architecting Choice: this entails engaging event participants as agents who shape their own experiences. The tough part for meeting planners? To let go of trying to produce controlled, defined outcomes and instead become curators of choice by giving participants the support and resources to make clear and informed choices. "There's a really fine balance between assumptions and curiosity when you're designing events because there's challenge and risk in giving all the authority to the audience," said Sarah Adeel, Senior Manager, Inclusion, Diversity + Equity, Amazon. "It's important to find the middle ground between your own assumptions, which are beyond the data bias, and keeping the curiosity alive in your audience." That balance between not enough choice and too much choice will be a tricky one for planners to navigate, especially since it could depend on geography. For example, the report notes that 65% of respondents in Brazil felt they had less choice than they'd like, compared to 35% in the U.S. Another tough truth in this section is that, as the report says, "As designers we often design around solving our own problems, rather than the problems of the audience. Ultimately, the audience may not care about the same things that experience creators care about. Knowing the audience, and why they are coming to an event, is the first step in charting pathways." This holds true for physical space — such as creating quiet zones for those who need a break from interacting — and technology choices as well. As Kevin Bethune, Author, Reimagining Design: Unlocking Strategic Innovation, said, "It's not just who you're designing for, but who you are designing with. Ideally, we should meet people where they are and engage them as thought partners to co-create a better way forward."
3. Designing for Belonging: the need to create a sense of belonging for attendees is central to most of the new principles, according to the report. As Janet Sperstad, Faculty Director, Madison Area Technical College, said, "Attendees want to know you care about them. They want to know you're going to help them get their needs met and guide them in a way that helps them find value." But this doesn't mean checking off a diversity, equity and inclusion box and moving on — it's more about honoring each person's authentic self. "It involves the right to both contribute and be heard by the institutions and organizers that invite participants to engage in the experience" while also "Recognizing that belonging means something different for everyone," according to the report. While it sounds difficult to pull off, start by engaging your audience in dialogue from the beginning of the design process. Then make space for authenticity by using tools such as Braindate to support peer-to-peer conversations. For planners, the key is to be curious and proactive: "Be open to feedback and hearing about opportunities to improve," the report advises.
4. Value of Values: This isn't just about return on investment, the report emphasizes. Audiences search for experiences that provide value beyond the dollar, prioritizing elements like sustainability, inclusion, hybrid channels, community engagement, time and uniqueness. Some factors to consider include needs, values, actions, activism, time and community, the report says. "The ways in which individuals assess the value of experiences has changed. Time and community connection are top of mind when our audiences make choices about investment of the time, energy and personal resources," the report said. One available tool that can be useful in figuring out what your audience cares most about is Valuegraphics, a dataset that has identified 56 core human values and their ranking importance to communities around the world.
5. Emotional Data: Most planners have been surveying their audiences for a long time to figure out what they want. However, said Chris Laping, Author of People Before Things, "Most surveys do not measure how people feel. Rather, they measure how people feel about the choices you gave them, resulting in inherent confirmation bias." While understanding the emotional state of participants is key to driving loyalty and decision making, event strategists need to discover how to leverage emotional data, measure it consistently and analyze it effectively. For example, instead of using the usual exit survey, PCMA partnered with Xenus AI to capture the overall emotional state of participants through facial recognition at its 2023 Convening Leaders conference. Audience segmentation tools use personalization to create dialogue and encourage preference sharing. A key insight from this section of the report: "Start by determining why you want the data you collect and what you intend to do with it."
6. Power of Play: "Storytelling and narrative is the way we make sense of the world, and that's one key way which we can help people make sense of all these multiple tools," said Ryan Howard, Technical Program Manager, Experience Design, Google. "Breaking something apart and putting it back together – that's a shortcut for understanding and making sense of it. Play is interesting, because it solves many of its own problems – we put the parts together, blow them up, and put them back together in a new way." It's also the key to innovation, according to the report. "We can drive experience and technology forward by creating a new playscape process — one that supports creativity through play, mindfulness and imagination," the report said. This means both structured and unstructured playtime — and that also doesn't necessarily mean games, which bring out competitiveness and tend to stifle experimentation and collaboration. New developments in artificial intelligence (AI) are looking positive for facilitating connection, but it's important to retain that human factor to serve as a check on any of AI's potential ethical, business and security challenges. Some ways planners can design a more playful environment include creating dedicated, flexible spaces where people can experiment without have to adhere to too many rules.
The study is the latest in a series of industry reports compiled by PCMA and Marriott since 2015. Download the full report here.
Free Subscription to
MeetingMentor Online
Continue
About ConferenceDirect
ConferenceDirect is a global meetings solutions company offering site selection/contract negotiation, conference management, housing & registration services, mobile app technology and strategic meetings management solutions. It provides expertise to 4,400+ associations, corporations, and sporting authorities through our 400+ global associates. www.conferencedirect.com
About MeetingMentor
MeetingMentor, is a business journal for senior meeting planners that is distributed in print and digital editions to the clients, prospects, and associates of ConferenceDirect, which handles over 13,000 worldwide meetings, conventions, and incentives annually. www.meetingmentormag.com
Design by: Loewy Design