7 Trends Shaping Events in 2023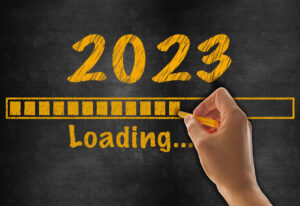 In-person events are already well on their way to getting back to pre-pandemic levels. A whopping 90% of planners say they are sourcing in-person meetings now, compared to an already encouraging 70% back in early Q2 of this year, according to a recent report from event tech company Cvent. Even better, 83% say they expect to host even more events next year than they did back in 2019.
But while the numbers may be normalizing or even increasing, the format these in-person events will be taking likely won't look like what was standard back before COVID forced a hiatus in in-person events. They'll need to be reshaped to accommodate what Cvent calls the "new breed of attendees" who are comfortable with the latest technology, and hungry for experiences and meaningful connections.
Of course, everyone is expecting that the cost increases experienced in 2022 will continue to reverberate throughout the coming year, with 85% of planners thinking events will be more expensive to put on than they were pre-pandemic — especially when it comes to venues, safety protocols and AV/production. Hotels and venues also are expected to continue to struggle with both increasing expenses and a difficulty in staffing up to the levels they need to provide the experience the 2023 attendee wants.
Trend 1: Upcoming surge in bookings may lead to budget pinches and bottlenecks
While the future bookings news is encouraging, the aforementioned cost increases and staffing issues on the venue side could cause some issues for budgets and service levels alike, Cvent found. As some planners may already have noticed, even venues that have been able to staff back up still have to train the new hires, and that may take a bit of time. One planner
commented that "not only is staffing an issue but trained staffing is an issue. Many of the
experienced staff are gone, and with them institutional knowledge and relationships."
Trend 2: Expect to hear a lot more about attendee return on investment (ROI) and return on experience (ROE)
While many attendees were just happy to get back together in 2022 and were consequently pretty forgiving about glitches, costs and service issues, this grace period may be starting to fade as we move into 2023. "There's now more of a heightened focus on return on time, experience and investment for event attendees," the Cvent report says. And that holds true for the in-person attendees and those who plan to attend remotely as well, which means engaging both remote and in-person participants through experiential marketing and digital storytelling.
Trend 3: "Valuegraphics" become as important as demographics
Consumers of all stripes — including your attendees — have begun to lean into decision-making based on their core values. This means it's time to do a little research into what your attendees value, such as sustainability. "Planners can use this information to better understand what motivates their attendees, how to better market to them, and how to provide them with more engaging content." And to work with their venues to create activities that reflect and support those values.
Trend 4: Turn the triple threat — virtual, hybrid and in-person events — into a triple opportunity
Planners and attendees alike came to depend on digital events to keep informed, create community and network beyond the usual constraints of the physical world. While there's an eagerness to get back to in-person events, that doesn't mean the digital and digital/in-person hybrid is going away any time soon, the Cvent report concludes. Venues and conference organizers alike need to be up for this triple opportunity challenge. Venues need to be able to provide the high-speed digital connections and ample bandwidth (or vendors who can provide it if the venue can't) needed for hybrid events, while planners need to be able to find ways to keep the digital side engaging.
Trend 5: Focus on health and wellness
Along with sustainability, health and wellness became a core value for many during the pandemic, and that trend — already growing in 2019 — is only going to continue to grow in 2023. In addition to healthier food and beverage options, morning yoga classes and perhaps a quiet space set aside for the overwhelmed to recalibrate, people want experiences that are "rich in purpose, creativity and intellect," the report says, as well as those that support mental well-being.
Trend 6: Leisure destinations pull ahead of urban locales
Leisure markets are pulling ahead when it comes to meeting and event RFPs, according to the May 2022 Cvent Source MICE Business Insights Snapshot (based on data from the
Cvent Supplier Network). While the reasons for the preference for leisure over the usually dominant city centers aren't spelled out, the continuing rise of the business-plus-leisure trip — say, adding a few vacation days onto the front or back end of a conference — likely is fueling this trend, along with the continued focus on health and wellness.
Trend 7: Will 2023 be the year AR and VR hit the mainstream for events?
While the Cvent report doesn't go that far, it does predict that, as virtual and augmented reality technology comes down in cost and increases in usability, planners will begin to integrate VR and AR (and maybe even the metaverse?) into the event experience. Most likely though will be a continuation of the trend toward being able to provide VR to check out venues digitally without having to go on site during the sourcing stage, as well as using AR to be able to visualize different room setups during a walk-through.
Free Subscription to
MeetingMentor Online
Continue
About ConferenceDirect
ConferenceDirect is a global meetings solutions company offering site selection/contract negotiation, conference management, housing & registration services, mobile app technology and strategic meetings management solutions. It provides expertise to 4,400+ associations, corporations, and sporting authorities through our 400+ global associates. www.conferencedirect.com
About MeetingMentor
MeetingMentor, is a business journal for senior meeting planners that is distributed in print and digital editions to the clients, prospects, and associates of ConferenceDirect, which handles over 13,000 worldwide meetings, conventions, and incentives annually. www.meetingmentormag.com
Design by: Loewy Design