Vegas Is Eager and Ready to (Safely) Get Back to Business
A high-profile panel of hospitality heavy hitters gathered at the Las Vegas Convention Center's new 1.4 million square-foot West Hall on April 8 to celebrate Global Meetings Industry Day with a discussion of what the past year of COVID-19 restrictions has meant to the city, their businesses, and the industry, as well as what they see for the future of meetings and events.
Facing a small in-person contingent — and a much larger remote audience who joined via livestream — the panel emphasized that it's more important now than ever to advocate for this vital industry.
"It's really important that we're out there and advocating constantly that venues can provide safe meetings. There probably is not any more important topic for our industry than duty of care, instilling confidence and trust in health and safety" for meeting-goers, said Michael Massari, Chief Sales Officer at Caesars Entertainment and Co-chair of the Meetings Mean Business Coalition. "We've been holding meetings at our facilities since June. We're in the logistics business, so we know what to do to sanitize the space, and we're quite capable of doing it."
Related: 5 Legal Essentials for Bringing Back Live Events Safely
Chris Flatt, Executive Vice President of Hotel Sales and Marketing with Wynn Las Vegas, gave U.S. Travel a shout-out for the "phenomenal job it's done over the past 13 months" in advocating for the meetings industry. "[U.S. Travel President and CEO] Roger Dow and his team have really supported us — tourism and meetings are our lifeblood here."
Related: Industry Advocacy Gets Boost from New Legislation — and a New Coalition
Steve Hill, CEO and President of the Las Vegas Convention and Visitors Authority, said of the past year, "Absence makes the heart grow fonder." When the event business evaporated during COVID-19, "it had such a stark effect on our community and our state," especially in terms of employment that "[The importance of meetings] has not been a hard sell to our elected officials — all the time, not just in the middle of a pandemic."
He also emphasized that the key to fully opening up safely is vaccination. "We're making great strides, and by the time we get into summer, everybody, including our elected officials, will be ready to get back to normal."
Bookings on the Rise
Chandra Allison, Senior Vice President of Sales and Marketing at The Venetian Resort Las Vegas/Las Vegas Sands Corp. said that it's looking like normal may not be too far off, with the second half of 2021 bookings getting almost back to pre-pandemic levels. Customers have a new appreciation for the value of face-to-face meetings, she said, especially after being deprived of them for a year. "Everybody really understands deeply now why they gather face to face, how important that is to building relationships, learning, retaining information, and growing your organization." While this year has undeniably been tough, "It will make our industry stronger in the long run," she said.
Massari added, "I think all of us booked as much or more future business in the last 12 months than at any other point in the history of our companies. Even in the middle of this pandemic, we all had customers clamoring to sign future contracts for face-to-face gatherings."
Venues Bring New Meeting Enticements Along with Enhanced Safety Protocols
Vegas venues haven't been twiddling their thumbs while waiting for business to return, panelists said. From the opening of the CAESARS FORUM, which offers more than 300,000 square feet of flexible space and the two largest pillarless ballrooms in the world, to room remodels and a new restaurant at the Wynn Las Vegas, "we've got a number of things that we're continuing to work on and continuing to invest in to make sure that when our customers come back, they're here to see something new and something exciting," said Wynn's Chris Flatt. One not to miss is the highly anticipated underground tunnel build by Elon Musk's The Boring Company, which will transport convention attendees around the Las Vegas Convention Center campus.
Related: APM Opens CAESARS FORUM with a (Safely Distanced) Bang
And all have developed both cleaning and sanitation protocols, as well as services such as MGM's Convene with Confidence program, which includes the option for on-site rapid, molecular COVID-19 testing. Since Convene with Confidence debuted in September 2020 with the option for attendee testing in partnership with CLEAR, Cue Health and Impact Health, MGM Resorts has safely hosted close to 300 meetings and groups within the approved size limits using the protocols outlined in the program, said Stephanie Glanzer, Chief Sales Officer and Senior Vice President of Sales at MGM Resorts International.
Related: The Future of Face-to-Face Meetings: The View from the Top
The Venetian offers Venetian Clean Commitment, which includes thermal scanners at each of the resort's entrances, masking requirements, cleaning and disinfecting protocols for public spaces, among other safeguards.
"We've all gone the extra mile to make sure that our buildings are safe, that our customers and our employees are safe," said Massari.
Face to Face Still Rules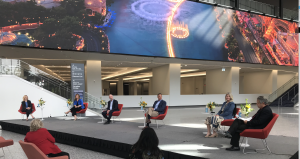 The pause in live meetings this past year has been a good opportunity to re-evaluate the value that in-person events bring, the panelists said. While digital events have, in many cases, brought in new revenue streams, in the end, the flip to digital during the pandemic will only help create more interest in participating in face-to-face events when they can safely return. Glanzer added that going through all the changes has only brought the industry together.
Related: Future of Face-to-Face Meetings: Midsize Markets Weight In
"We've gone through personal and professional change together. We have all talked and collaborated more in the past year than ever," she said. "I may sound a little Pollyanna here, but we have come out of this tighter."
Steve Hill added, "If we had not gone through a pandemic in the last 12 or 13 months, we could very possibly be sitting up here on this stage talking about the social upheaval [we experienced in 2020] and lessons learned from that. I don't think we should forget that. Las Vegas has always been an exceptionally inclusive place, and we have all learned a lot in those areas as well."
Flatt said, "We keep talking about advocacy, but setting an example of what we can do to support this industry, such as getting our vaccines, will also be important to get everyone traveling and meeting again. Let's take what we've learned and then keep moving forward and get even better."
The Las Vegas event was sponsored by Caesars Entertainment and the Las Vegas Convention and Visitors Authority.
Free Subscription to
MeetingMentor Online
Continue
About ConferenceDirect
ConferenceDirect is a global meetings solutions company offering site selection/contract negotiation, conference management, housing & registration services, mobile app technology and strategic meetings management solutions. It provides expertise to 4,400+ associations, corporations, and sporting authorities through our 400+ global associates. www.conferencedirect.com
About MeetingMentor
MeetingMentor, is a business journal for senior meeting planners that is distributed in print and digital editions to the clients, prospects, and associates of ConferenceDirect, which handles over 13,000 worldwide meetings, conventions, and incentives annually. www.meetingmentormag.com
Design by: Loewy Design