Industry Advocacy Gets Boost from New Legislation — and a New Coalition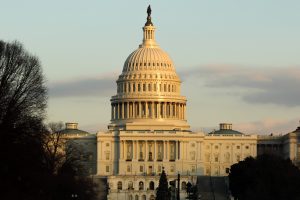 Meeting and events industry advocates finally have something to celebrate: In late February, a bipartisan bill, the Hospitality and Commerce Job Recovery Act, hit the Senate floor. The legislation proposes to implement tax incentives — including a temporary business tax credit — to assist meetings and events, among other related services, that would bring back millions of the jobs lost during the COVID-19 pandemic. While a similar bill proposed last fall never gained momentum, hopes are high that this one will fare better.
A letter signed by ConferenceDirect and dozens of other meeting and hospitality organizations urged Congress to "support the swift enactment of the Hospitality and Commerce Job Recovery Act to provide a targeted, yet comprehensive way to bring back the jobs that were lost as soon as possible. Key among the provisions are tax incentives to help restore long-term planning and economic activity at convention centers, hotels, restaurants, attractions, souvenir shops, transportation hubs, and other travel-dependent establishments.
"The bill also seeks to strengthen America's food supply chain by including targeted measures to address the unprecedented level of loss in spoiled food and beverage inventory last year due to local shutdown orders.
"As the broader travel and hospitality industry continues to do its part to provide a safe and healthy environment for its workers and guests—we look to Congress to help put in place the policies needed to facilitate a quick and sustainable economic recovery, ensuring a better and brighter future for all travel workers."
The meetings industry also just got a new bullhorn to help promote this and further actions: The Exhibitions and Conferences Alliance (ECA), a 501(c)6 organization of eight meetings and events associations designed to promote the interests of the industry with legislators and drive industry-supportive legislation. The umbrella group encompasses current advocacy initiatives, including Go LIVE Together, which will continue to push for federal COVID-19 recovery funding, and Exhibitions Mean Business, which seeks to educate legislators on the economic impact of exhibitions at the local, state, and federal level.
"Through lessons learned with Go LIVE Together, Exhibitions Mean Business, and other efforts, we know that advocacy is an ongoing process, and not one that can be easily impacted by jumping in only when there is a crisis," said David Audrain, CEM, Executive Director of the Society of Independent Show Organizers (SISO) and co-president of ECA, along with Sue Sung, senior vice president of corporate strategy with Freeman and executive director of Go LIVE Together. "ECA will enable us to develop and maintain a long-term strategy to raise our industry's profile among policymakers, ultimately helping to move us forward."
Members of the initial ECA board include: Cathy Breden, CMP, CAE, CEM, CEO, Center for Exhibition Industry Research (CEIR); Melissa Cherry, COO, Destinations International; Jim Wurm, Executive Director, Exhibitor Appointed Contractor Association (EACA); Chris Griffin, CEO of Crew XP, representing Experiential Designers + Producers Association (EDPA); Bob Priest-Heck, CEO of Freeman, representing Exhibition Services & Contractors Association (ESCA); Megan Tanel, CEM, SVP of Association of Equipment Manufacturers, representing International Association of Exhibitions and Events (IAEE); Clifford "Rip" Rippitoe, CVE, CEO of San Diego Convention Center, representing International Association of Venue Managers (IAVM); and Douglas Emslie, CEO of Tarsus Group, Hervé Sedky, CEO of EmeraldX, Nancy Walsh, President, Americas of Informa Markets, Yancy Weinrich CGO, Americas of Reed Exhibitions, representing Society of Independent Show Organizers (SISO).
"We're confident that combining our resources will strengthen our advocacy influence for exhibitions and conferences, effectively ensuring that our voices are heard, to generate positive outcomes for our industry on Capitol Hill as well as at the state and local level," said IAEE President and CEO David DuBois, CMP, CAE, FASAE, CTA, co-president of ECA.
Free Subscription to
MeetingMentor Online
Continue
About ConferenceDirect
ConferenceDirect is a global meetings solutions company offering site selection/contract negotiation, conference management, housing & registration services, mobile app technology and strategic meetings management solutions. It provides expertise to 4,400+ associations, corporations, and sporting authorities through our 400+ global associates. www.conferencedirect.com
About MeetingMentor
MeetingMentor, is a business journal for senior meeting planners that is distributed in print and digital editions to the clients, prospects, and associates of ConferenceDirect, which handles over 13,000 worldwide meetings, conventions, and incentives annually. www.meetingmentormag.com
Design by: Loewy Design