Data You Can Use to Fight Battle of the Budget
Having a tough time convincing the powers-that-be that your 2019 budget won't fly in 2023? Here's some ammo that can help.
Demand for group meetings and events continues to exceed 2019 levels in terms of room nights and number of events. According to data shared by ConferenceDirect President and CEO Jerry Horan during the company's CDX meeting in late August, both the number of room nights booked and the number of bookings have not just caught up to 2019 levels but actually exceed them — especially for large and mid-size group events. That's great news.
What's not so great is that many meeting and event professionals are still trying to shoehorn their 2023 and beyond meetings into a budget that was tight even back in 2019. Given the inflationary nature of the economy these days, that's not surprising. But while everyone who has visited a grocery store lately knows everything is more expensive now, for some reason planners are still having a tough time making the argument for budget increases.
In fact, Horan said, "Budgets and overall costs are the number-one challenge" planners are reporting right now.
To help arm planners with some data that should help, he outlined some realities planners face when it comes to budgeting and anticipating cost increases for events in 2023.
 Destination Hotel Rate Data You Can Use
Did you know that hotel rates in top destinations have increased by double digits in many cities since 2019? Las Vegas, the number-one destination for ConferenceDirect-booked events, is up 15% since 2019, and the rate of increase is only accelerating. Other destinations with high rate increases since 2019 include Miami (+69%), National Harbor, Md. (+46%) and Houston (+44%).
However, rates are starting to level in other areas. Washington, D.C., while it is also up 10% over 2019, only increased 8% over the past year and Orlando, up 21% since 2019, is up just 11% over 2022 — and rates overall in Florida are starting to normalize, said Horan. If you're looking for value in a hot destination, San Francisco was especially hard hit by the pandemic, down 7% over 2019. However, it's coming on gangbusters now, up 27% in just the past year. Chicago also is a good value for a big city — while it is up 4% over 2019, it has dropped 6% since 2022.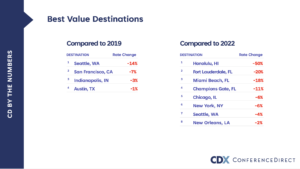 Internationally, key destinations in Canada are also beginning to normalize when it comes to hotel rates. Toronto is coming back from its 21% 2019-2023 increase, having gone up just 3% in the past year. Vancouver, while up 13% from 2019, also is just up 3% year over year. For good value north of the border, check out Calgary, which is down 25% since 2019 and 17% since last year. Hotel rates in Amsterdam also continue to drop, down 36% since 2022.
For best-value destinations, consider Seattle, down 14% since 2019; Indianapolis, down 3% since COVID hit; and Austin, Texas, down 1% since 2019. Cities that have dropped rates in just the past year include Honolulu (-50%), Fort Lauderdale, Fla. (-20%); Miami Beach (-18%), and Champions Gate, Fla. (-11%).
As always, whatever destination you ultimately choose, you will have the most negotiating power if you can be flexible about your dates and patterns, said Horan.
F&B Ammo
But site selection is just one piece of the budgetary puzzle. One of the other biggest budget items giving planners a financial-induced headache is food and beverage. A few F&B realities Horan provided that you can use to justify your F&B increases include:
Coffee prices are up 53% since February 2020.
Bananas are up 35%.
Oranges are up 169%
Gasoline is up 68%.
Poultry is up 73%.
Beef is up 9%.
Wheat is up 60%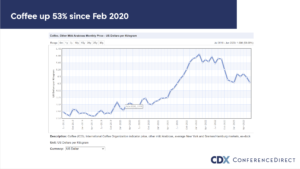 While chicken and beef are pricier than ever, one positive note is that shrimp prices have actually come down 26% since February 2020, so shrimp cocktails may actually be a viable appetizer nowadays.
That said, overall, the commodity food price index since February 2020 is up 42%. Is your F&B budget up 42% as well? Horan suggested that planners establish their BEOs with their hotel partners as soon as possible to avoid supply issues that could drive further increases and/or availability issues.
What are your biggest budgetary sticking points? Share your thoughts by emailing sue.pelletier@conferencedirect.com.
Free Subscription to
MeetingMentor Online
Continue
About ConferenceDirect
ConferenceDirect is a global meetings solutions company offering site selection/contract negotiation, conference management, housing & registration services, mobile app technology and strategic meetings management solutions. It provides expertise to 4,400+ associations, corporations, and sporting authorities through our 400+ global associates. www.conferencedirect.com
About MeetingMentor
MeetingMentor, is a business journal for senior meeting planners that is distributed in print and digital editions to the clients, prospects, and associates of ConferenceDirect, which handles over 13,000 worldwide meetings, conventions, and incentives annually. www.meetingmentormag.com
Design by: Loewy Design