Majority of Americans Are OK with Vaccination Mandates for Events
One trend that's hard to escape this fall is that more meetings, events and trade shows are beginning to institute proof-of-vaccination mandates for attending, from IMEX America to CES 2022 to the International Legal Technology Association annual conference. Some destinations, including San Francisco, also are starting to require proof of vaccination for entry at indoor venues, while others, such as Nevada, are waiving indoor mask mandates for events that require proof of vaccination for entry.
So it's a good thing that it appears that acceptance of the idea may also be on the rise as new data shows that more than half of Americans favor requiring proof of COVID-19 vaccination to attend an event with a large audience. According to data from Gallup, 58% said they were in favor of vaccine mandates for large events, up from 55% in April. But that's not to say the sentiment is universal.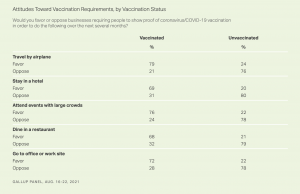 As with everything to do with meetings and events, it pays to know your audience, though in this case, in ways you wouldn't necessarily have thought you'd need to know in the past.
One big differentiator is vaccination status. Those who already are fully vaccinated have the highest approval rating for large-event vaccine mandates, at 76%, while only 22% of those who are not vaccinated said the same.
Political affiliation also matters when it comes to vaccine mandates. Event organizers whose audience leans Republican should note that the idea is only approved by 25%, while 48% of independent voters and a whopping 90% of Democrats are in favor.
When you combine political affiliation with vaccination status, the results are even more starkly different. Ninety-four percent of vaccinated Democrats favor vaccine mandates for large events, compared to 63% of unvaccinated Democrats. Forty-two percent of vaccinated Republicans are for vaccine mandates for large events, while a scarce 9% of unvaccinated Republicans felt the same.
Vaccine mandates for other event-related activities, such as air travel, hotel stays, and restaurant dining, also are OK with most Americans, with similar caveats for vaccination status and political leaning. As of August, when Gallup collected the data, overall 61% approved of proof-of-vaccine requirements to travel by airplane, and 53% for staying in a hotel and eating at a restaurant. These are all slight increases in approval from April, when the percentages were 57% for air travel, 44% for hotel stays and 40% for restaurant dining.
In all these cases, breakdowns by vaccinated versus unvaccinated and by political affiliation found the vaccinated and Democrats much more likely to be in favor, and the unvaccinated and Republicans to be much less likely to be in favor of requiring vaccines to participate. For example, 96% of vaccinated Democrats are all for requiring proof of vaccination to fly, compared to 12% of unvaccinated Republicans.
Free Subscription to
MeetingMentor Online
Continue
About ConferenceDirect
ConferenceDirect is a global meetings solutions company offering site selection/contract negotiation, conference management, housing & registration services, mobile app technology and strategic meetings management solutions. It provides expertise to 4,400+ associations, corporations, and sporting authorities through our 400+ global associates. www.conferencedirect.com
About MeetingMentor
MeetingMentor, is a business journal for senior meeting planners that is distributed in print and digital editions to the clients, prospects, and associates of ConferenceDirect, which handles over 13,000 worldwide meetings, conventions, and incentives annually. www.meetingmentormag.com
Design by: Loewy Design