Now Trending: Proof of Vaccination for Meetings and Events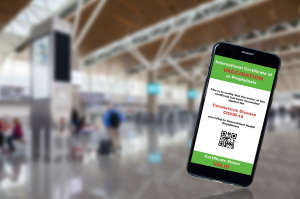 "Hope for the best, plan for the worst" has always been the savvy meeting professional's motto — and never more so than during the COVID-19 pandemic. And that pandemic is not over yet. While the delta variant-caused surge in many states is starting to flatten, there is still a lot of uncertainty around what the fall and winter of 2021-2022 will bring. However, there apparently is growing hesitancy on planners' parts to implement COVID protocol measures such as vaccine mandates for their own in-person meetings and events. According to a recent Pulse survey by Northstar, fewer than half of planners planned to require proof of vaccination and/or COVID tests, even though another survey by MMGY Travel Intelligence found that seven in 10 attendees would be more likely to attend if one or both of these protocols were in place.
Often, meeting industry organizations model new strategies, techniques and tactics so their constituents can see how it plays out before having to take the risk themselves. In addition to new techniques and technologies, meetings-related organizations now are adding an inside look at these COVID-related protocols work in real life by implementing proof-of-vaccination requirements for their own upcoming meetings and events.
Most recently, both the American Society for Association Executives (ASAE) and the International Association for Exhibitions and Events (IAEE) announced on Sept. 30 that they would be requiring proof of vaccination from all who planned to register for their upcoming shows. Both the ASAE Technology Exploration Conference and IAEE's Expo! Expo! are scheduled to be held early in December; Expo! Expo! is scheduled to be held in Philadelphia Dec. 7–9; ASAE's Tec21 conference, which will by hybrid to accommodate those who can't come in-person, is scheduled to be held in Washington, D.C., Dec. 13–16. The Professional Convention Management Association (PCMA) had made a similar announcement earlier in the month for its Convening Leaders convention, scheduled to be held in January 2022 in Las Vegas.
One of the first to adopt this COVID protocols this fall was the Center for Exhibition Industry Research (CEIR), which had the requirement in place for its recent CEIR Predict Conference in mid-September at the MGM National Harbor in Maryland. Like CEIR, IAEE will be using the Fern Health Check powered by ShareMy.Health platform to collect the information, including that the final dose of vaccines that require two shots is received at least two weeks prior to the start of Expo! Expo!. IAEE will also conduct daily health screenings at the venue's entrance each day and will require all participants to wear masks.
"The IAEE Board of Directors voted unanimously for the vaccine requirement and believes this is the right decision for our trade-show community at this time," said 2021 IAEE Chairperson Bob McLean, CPA, CAE, CEM, executive vice president of the Promotional Products Association International. "We are looking forward to experiencing the best and safest Expo! Expo! possible this year in Philadelphia."
While it won't be held untilNov. 9–11, IMEX America was one of the first of the fall 2021-winter 2022 meeting industry shows to announce it would require all participants to provide proof of full vaccination (which could either be one of the three approved for use by U.S. authorities, plus some approved by other countries, such as the Novavax, Oxford/AstraZenica, Sinopharm, Sinovac and Sputnik V COVID-19. vaccines) to be able to attend its show at the Mandalay Bay in Las Vegas. IMEX will be using the CLEAR Health Pass app for its North American attendees.
In making the announcement on Sept. 7, IMEX Group CEO, Carina Bauer, said, "The requirement for participants to prove their full vaccination status is fast becoming the unofficial 'gold standard' for large events in the U.S."
PCMA's Convening Leaders, which has the longest runway of these industry events as it is more than two months out, is still investigating its options for requiring those who work at the event's host venue — CAESARS FORUM — and other third-parties who will be serving the show to provide proof of vaccination as well. According to PCMA, "While the goal is to have everyone who works to create the meeting be vaccinated, we are still investigating what PCMA can legally require of other organizations' employees. We will update this section with more information as it becomes available."
Free Subscription to
MeetingMentor Online
Continue
About ConferenceDirect
ConferenceDirect is a global meetings solutions company offering site selection/contract negotiation, conference management, housing & registration services, mobile app technology and strategic meetings management solutions. It provides expertise to 4,400+ associations, corporations, and sporting authorities through our 400+ global associates. www.conferencedirect.com
About MeetingMentor
MeetingMentor, is a business journal for senior meeting planners that is distributed in print and digital editions to the clients, prospects, and associates of ConferenceDirect, which handles over 13,000 worldwide meetings, conventions, and incentives annually. www.meetingmentormag.com
Design by: Loewy Design