Should Your Next New Hire Be a Bot?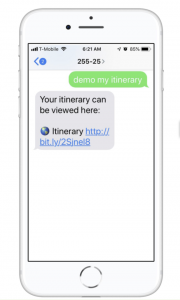 Meet one of ConferenceDirect's newest additions, Brianna. Like Cher and Madonna, she just goes by her first name. Unlike the renowned musical artists, she doesn't have much of a stage presence — or any presence at all, really, outside of a cellphone screen. Although everyone talks about her as if she were just another human employee, Brianna actually is an artificial intelligence–powered event chatbot that debuted at the company's CDX conference in Kansas City earlier this year. And it appears she was a hit.
Designed, developed and deployed by 42Chat (formerly known as Sciensio), Brianna is one of a growing force of event chatbots whose mission is to make life a little easier for conference staffers and attendees alike by being instantly available to answer life's most burning questions — like when does the luncheon start — via text message, right on the attendee's mobile phone.
It may not sound like a big deal — unless you are one of the people tasked with constantly fielding these requests — but those emails and phone calls and on-site face-to-face interactions really do add up. In fact, over the 296 hours of 24/7 support Brianna was deployed to provide for the CDX Kansas City event, she ended up answering 655 requests. And she did more than just answer the questions as asked: She also was programmed to anticipate, for example, that someone who is asking if there is Wi-Fi will also want to know if it's free, how to access it and what the password is. So she actually gave 1,167 responses in answer to those 655 requests.
While she didn't nail every answer at her first event — 5 percent missed the mark — that was mainly because some of the questions were what 42Chat calls "out of scope," such as, "Who am I?" and "Where can customers fill their magic cups?" which are a bit too existential to be answerable, by either human or bot. 42Chat does monitor the chatbot and, if she gets stumped by a question that isn't out of scope, teaches her the answer so she'll be able to answer the next time the question comes up. At her debut event alone, Brianna covered more than 80 topics that users could ask about in 6 million different ways — it's surprising the variety of ways people can ask for something as simple as a bathroom location.
"I wasn't sure we needed a chatbot, since we already had an app, but chatbots are an emerging technology, and we wanted to see how it could enhance the experience," said J.J. Wills, senior vice president, marketing programs and business development, with ConferenceDirect. "The numbers show that she got really high engagement the first time we used her, so this is definitely a way attendees want to communicate." The registration desk staff also had noticeably fewer people asking questions like "What time do the buses depart tonight?" or "Where do I catch the airport shuttle?" she added.
"They tell me she gets smarter the more we use her, which is pretty cool," added Wills. And she is already getting smarter: Brianna's correct response rate rose from 94.7 percent at her first event to 97.5 percent at the CDX Fall event in Louisville. She also will be on hand for the CD Forum and CD Summit events later this year.
Push Notifications, Polls and Privacy
While you can provide push notifications through the chatbot, you will want to limit the number of unsolicited text notifications the bot sends, said Alyssa Mallory, customer success director with 42Chat. Brianna just reached out twice pre-event to introduce herself and encourage attendees to interact with her: once in a registration confirmation notice and the second time in an event welcome greeting. "If they don't engage, she stops reaching out. She's not going to pester people who aren't interested," said Wills.
Organizers were able to connect Brianna with mobile numbers for 99 of the 106 attendees at the CDX Spring event, a 93.4 percent reach. Of those 99, 66 connected with the bot, a 67 percent interaction rate. "We like to see anything higher than 60 percent," Mallory said, adding that the number will fluctuate depending on how familiar attendees are with the event and the venue — the more familiar they are, the fewer questions they likely will have.
ConferenceDirect also pushed out a few customized notifications, such as table assignments for a dinner and departure transfer information. "The trick with that is that those who aren't engaged with Brianna won't get the message," said Wills. "So we also have to post dinner seating in the app for those who aren't talking with Brianna."
All 42Chat event chatbots come with a mandatory feature for emergency notifications. While event organizers will still want to use all available channels to get the word out in an emergency situation, attendees may not have notifications turned on for the event app or may not see an email right away. "The chatbot is perfect for emergencies or other situations that you want to communicate about instantly with everyone who's there," said Wills.
"If, heaven forbid, something happens, you need to have a way to push the information out. That's why we insist on collecting local mobile numbers," said Mallory. Because some people might be reluctant to give their cellphone numbers during the registration process, she adds, 42Chat recommends language that clients can use that can help. "For example, our chatbot is GDPR [General Data Protection Regulation]-compliant, which means we're going to tell you exactly how it is going to be used, which is only for this event. People are a lot more willing to give their numbers if you make that clear."
The chatbot also allows organizers to conduct live polls and surveys during a specific session, over the course of the event and postevent.
A Bot in Progress
As conference organizers did when event apps were the new kid in town, ConferenceDirect staff made a point of educating people about Brianna, even introducing her from the main stage at the opening general session and inviting 42Chat CEO and founder Chuck Elias to explain the concept in more detail. "We will continue to educate people as we continue to introduce her throughout this year to new audiences," said Wills. "Eventually, it won't be necessary. We did the same thing six or seven years ago with the mobile app, but once everyone knows about it you can stop including that educational piece."
And the ConferenceDirect event staff is still figuring out how best to maximize this new communication channel. "We have the registration platform, where we communicate via email. About three weeks before the event we launch the mobile app, including push notifications, which in the past we have used for the majority of our on-site communications. And now we have Brianna. We want to communicate but not overcommunicate," said Wills.
"We are still thinking through which channel makes the most sense for which types of messages," she added. "One of the great things about Brianna is that registrants will probably see it before a push notification or email." In the meantime, organizers still are sending the daily on-site email and posting updates in the app.
Another work in progress is integrating Brianna with the other platforms the ConferenceDirect events team uses, to eliminate the need to update information manually. "For example, if there's a change on the agenda, right now we would change that on the registration platform, the app and also Brianna. You run the risk of real-time changes and human error, so we are looking at how those platforms can talk to each other," said Wills.
And she expects to take a deeper dive into the wealth of data that can be gleaned from the questions people asked Brianna. For example, there were a lot of questions about food and beverage asked during the CDX Spring event. "We will continue to drill down to see if there are other things we need to train Brianna on. I imagine as people get more comfortable asking questions of the bot, she will be answering questions related to gluten-free options and other specific food requests." — Sue Pelletier
Free Subscription to
MeetingMentor Online
Continue
About ConferenceDirect
ConferenceDirect is a global meetings solutions company offering site selection/contract negotiation, conference management, housing & registration services, mobile app technology and strategic meetings management solutions. It provides expertise to 4,400+ associations, corporations, and sporting authorities through our 400+ global associates. www.conferencedirect.com
About MeetingMentor
MeetingMentor, is a business journal for senior meeting planners that is distributed in print and digital editions to the clients, prospects, and associates of ConferenceDirect, which handles over 13,000 worldwide meetings, conventions, and incentives annually. www.meetingmentormag.com
Design by: Loewy Design