Booth Pricing Increasing in Defiance of Inflation
More than half of trade show organizers report they have been able to raise prices at an annual rate that beats pre-COVID increases.
Most show organizers held back on increasing their booth prices in the early days of the pandemic, but that's over now. In fact, 57% of show organizers report that they have been able to up their prices 7% annually since July 2021, proving that those with strong portfolios were able to beat the post-COVID inflation spike. According to research conducted by Smartxpo and its Profisy pricing engine, which uses artificial intelligence (AI) to analyze the impact of inflation on event pricing, data generated by 230 events indicate that the industry has found ways to balance resurgent demand with significant cost inflation.
Almost a quarter of organizers had increased prices more than 10% year over year, while weaker shows have settled for around 5% annual increases, the analysis found. Those who have held their prices increases below 7%, likely because their exhibitors are still reeling from post-pandemic factors, may begin to raise prices as the recovery continues — which is something Smartxpo plans to track in upcoming editions of its analysis. For comparison purposes, the annual inflation rate for the U.S. has dropped from 7% in 2021 to 6.5% in 2022, and was down to 3.7% for the 12 months spanning from August 2022 to August 2023, according to U.S. Labor Department data.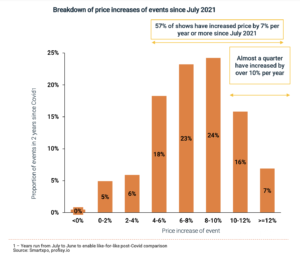 Of course, the amount an organizer can increase booth prices depends very much on the industry the show serves, as well as inflationary conditions facing the organizer. While show organizers in most countries were able to match or beat inflation rates in their booth price increases, in some countries, notably Turkey, inflation rates were so high — 50% — that they couldn't match that without pricing themselves out of the market. While economic conditions may lead a show organizer to think a giant leap in pricing is justified, exhibitors generally tend to be more accepting of smaller, more incremental increases over time, as the Profisy pricing engine analysis indicates.
As is the case with so much in this business, individual pricing decisions must depend on the specifics of the show and its exhibitors. Among the many factors beyond inflation that must be taken into account are the conditions within the vertical the show serves, demand for the show, geographic location, sales momentum, retention rates and customer sentiment.
Interestingly, while show organizers pay close attention to net promoter scores to help guide pricing decisions, NPS isn't necessarily a reliable indicator of what the market will bear. Also of key importance are retention rates, intention to return and how exhibitors rate the return on value they receive for their investment.
Free Subscription to
MeetingMentor Online
Continue
About ConferenceDirect
ConferenceDirect is a global meetings solutions company offering site selection/contract negotiation, conference management, housing & registration services, mobile app technology and strategic meetings management solutions. It provides expertise to 4,400+ associations, corporations, and sporting authorities through our 400+ global associates. www.conferencedirect.com
About MeetingMentor
MeetingMentor, is a business journal for senior meeting planners that is distributed in print and digital editions to the clients, prospects, and associates of ConferenceDirect, which handles over 13,000 worldwide meetings, conventions, and incentives annually. www.meetingmentormag.com
Design by: Loewy Design