Meeting Organizers Cancel Russia Meetings, Ban Exhibitors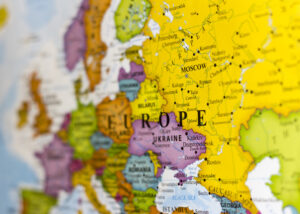 The organizers of IMEX Frankfurt, a key event for the meetings and hospitality industry that is held in Germany each spring, has banned Russian companies from its 2022 show as a result of the Russian invasion of Ukraine. The show takes place May 31–June 2 in Frankfurt.
In a statement released March 1, IMEX CEO, Carina Bauer and Chairman, Ray Bloom, said,
"Sadly, today we have taken the decision to suspend Russian state enterprises from participating at IMEX in Frankfurt 2022, as a direct result of the current political situation. We do this with a heavy heart, understanding that the world is in an unprecedented situation. Our hearts go out to everyone who is affected and especially the people of Ukraine. All of us wish for a speedy and peaceful resolution to this conflict."
Reactions to the announcement on IMEX's LinkedIn page trended positive. As one person said, "Thank you IMEX Carina Bauer and Ray Bloom for your decision and clear statement. I know that it is not aimed against our Russian colleagues in the MICE industry, but as part of the sanctions against the Russian state and the Putin's regime."
ConferenceDirect CEO Brian Stevens is not surprised. As he wrote in a statement for the upcoming Spring issue of MeetingMentor, NATO member countries have already issued warnings and sanctions to express their opposition to Russia's military action against Ukraine. Among the consequences he sees is some organizations pulling the plug on meetings they had planned to hold in Russia, as well as relocating meetings scheduled in Ukraine's neighbors such as Poland or Hungary to locales a bit further from the war zone.
"After two years of COVID-19 being the dominant concern in our industry, it is now very nearly overshadowed by the fear of war, at least in Europe," he writes.
Stevens' predictions are already proving true. For example, on Feb. 26, the German-based International Congress of Mathematicians (ICM) decided to cancel its in-person International Mathematical Union event scheduled for July in St. Petersburg and will instead hold it virtually, saying the "recent developments in Russia and Ukraine have changed the situation dramatically" and make it "impossible for the IMU to host the ICM and the [General Assembly] as traditional in-person events in Russia." Even before the Russian invasion of Ukraine, the decision to bring IMU to Russia had been controversial, with members calling for a boycott long before Russian President Vladimir Putin decided to invade Ukraine due to concerns over human rights violations, its "openly aggressive laws towards the LGBTQ community," and Russia's "aggression toward other countries."
While the giant Mobile World Congress show was held in Barcelona, Spain, not Russia, show organizer GSMA also took action as a result of the Russian invasion of Ukraine. GSMA announced it was banning some Russian exhibitors from its show floor, and that it would hold a Russian pavilion at its trade show, held last week. The event, which was hybrid this year, drew more than 60,000 in-person attendees.
GSMA explained the decision on its website, saying, "The GSMA strongly condemns the Russian invasion of Ukraine. The situation is fast-moving, and we understand that various governments are considering broader sanctions against Russia. In light of this emerging situation and considering the tragic loss of life, MWC seems immaterial under the circumstances. MWC is a unifying event with a vision to convene the mobile ecosystem to progress ways and means that connectivity can ensure people, industry, and society thrive.
"The GSMA follows all government sanctions and policies resulting from this situation. There will be no Russian Pavilion at MWC22."
At the event's opening last Monday, Vodafone CEO Nick Reed condemned the Russian invasion of Ukraine, telling MWC attendees, "With the backdrop of the Ukraine war, it's a conference like this that reminds me of the importance of global sectors and communities like ours working together to advance society."
Sporting event organizers also are reacting to Russia's invasion of Ukraine by banning Russian athletes from competing at their events. For example, the World Games 2022, scheduled to take place in July in Birmingham, Ala., has said it won't allow athletes from Russia or Belarus to compete. International soccer organizations also are denying entry to Russian athletes. Both FIFA and UEFA have announced that they will disallow Russian athletes from participating in upcoming events.
Meeting Industry Organization's Respond
Meeting Professionals International has come out the strongest so far among meeting industry associations. Last week, it released a statement condemning the "acts of aggression from Russian forces and urges an expeditious end to the conflict with Ukraine," adding, "In a show of support for the people of Ukraine, MPI will immediately suspend business with all companies in Russia. In addition, any plans to formalize a chapter in Russia will be paused."
"We remain concerned for the well-being of our community and our MPI members in Russia and Ukraine who were already seeking to climb out of the shadow of this pandemic and are now experiencing these unprecedented challenges," the MPI statement said.
While the Professional Convention Management Association (PCMA) also issued a statement about the unfolding crisis in Ukraine, it did not announce it was taking any specific actions or address meeting organizers. Instead, the association expressed support for "UN Secretary-General Antonio Guterres' position in his call to end this senseless war," adding, "We stand united against war and acts of evil against innocent civilians. We support people that believe in and live in a peaceful society. Our prayers are with all who are grieving, and it is our hope that peace will prevail quickly."
The International Congress and Convention Association (ICCA) came out with a similar statement last week. The organization's president, James Rees, said, "It is particularly hard to witness such devastation in countries where we normally work together, in partnership, so our thoughts at this time are with our members, friends and colleagues in both Ukraine and Russia who are being directly affected by this action.
"ICCA is an association that advocates for all of our global members, prizing knowledge exchange and internationalization; where differences are challenged through debate and discussion. We call on governments on all sides to do everything possible to end hostilities and meet to negotiate a peaceful resolution to this conflict."
The Events Industry Council (EIC) also issued a statement of support and solidarity with the people of Ukraine. It said, "The Events Industry Council strongly denounces the war in Ukraine and condemns the clear violation of international law. We are deeply disturbed by the humanitarian crisis unfolding, which will ultimately impact other countries and regions across Europe and are concerned for the safety and wellbeing of the people of Ukraine.
"The military invasion of Ukraine is in direct conflict with the values that all of us who serve the Events Industry Council and our global community passionately believe in, and we strongly oppose any form of violence and oppression that negatively impacts the safety and security of those that work in the events industry across Ukraine, their families, colleagues and indeed all Ukrainians…We stand firmly with Ukraine and urge all parties to work towards a peaceful resolution."
Messe Frankfurt, one of Europe's major event venue companies, also released a statement calling for peace. It read: "Messe Frankfurt is looking with great concern at the tragic developments in Ukraine these days.
"Our company creates internationally neutral communications and trade platforms where people of all nations come together. Our corporate principles stand for peaceful co-existence and trade relations of the same kind – because this is a prerequisite for a functioning international economy and for a functioning international coexistence as a whole."
But, like MPI, the venue also put some teeth into its statement, saying it has decided to suspend the group's business activities in Russia until further notice, including the activities of its subsidiary Messe Dusseldorf Moscow.
Dr. Stephan Keller, Lord Mayor of the state capital Düsseldorf and Chairman of the Supervisory Board of Messe Düsseldorf, said, "The entire city of Düsseldorf is thinking of the people in Ukraine. After we have already put the city partnership between Moscow and Düsseldorf on ice, it is only logical that Messe Düsseldorf, as a subsidiary of the city, also suspends its activities in Russia for the time being."
Wolfram N. Diener, CEO & President of Messe Düsseldorf, added, "The current events contradict the mission and values of our company, which is to create international marketplaces for free, cross-border intercultural and economic exchange."
Rising Fuel Prices, Vodka Down the Drain
The effects of the Russia invasion of Ukraine, and the world's reactions to it, also will affect meetings and events in more indirect ways. For example, fuel prices, already on the rise due to inflation, will likely affect everything from airplane ticket prices to food and beverage costs. With the International Air Transport Association reporting that the price of jet fuel up 4% from just a month ago — and more than double what it was last year — expect those increased costs to be passed along to passengers.
And it's not just oil and gas per se that will get more expensive. If your planned giveaways include anything from lip balm to specialty soaps — all made with petrochemicals — these also could cost more moving forward.
Though it is an altogether different type of oil, sunflower oil prices also are on the rise — the majority of the world's sunflower seeds come from Russia and Ukraine. Planners can expect to see this type of oil replaced on their menus with other vegetable oils — the price of which is likely to increase as well, according to thegrocer.co. Also expect everything made with wheat to get more expensive as long as the conflict between Russia and Ukraine, which together produce almost a quarter of the world's wheat exports, continues. Ditto for corn: Ukraine supplies around 17% of the world's maize exports.
And if your attendees love their vodka-and-tonics, they may have to do without their favorite brands. Governors of U.S. states including Utah, New Hampshire, Ohio and Pennsylvania, along with the Ontario, Canada Liquor Control Board, have already put bans on the sale of some Russian-produced products, including vodkas. But not to worry — the popular Stoli brand is actually registered in Latvia, not Russia, and other popular brands likewise aren't Russian in origin, including Grey Goose (France), Skyy and Titos (both made in the U.S.).
How You Can Help
In its statement, PCMA committed to contributing to the Ukraine Humanitarian Fund, unfoundation.org.
Other charities that are supporting the people of Ukraine include:
UNICEF
CARE's Ukraine Crisis Fund
Voices for Children Foundation
UN Refugee Agency
International Rescue Community
Save the Children Ukraine Crisis Relief Fund
Médecins Sans Frontieres/Doctors Without Borders
Project HOPE
International Committee of the Red Cross
MORE ARTICLES FROM THIS ISSUE:
Free Subscription to
MeetingMentor Online
Continue
About ConferenceDirect
ConferenceDirect is a global meetings solutions company offering site selection/contract negotiation, conference management, housing & registration services, mobile app technology and strategic meetings management solutions. It provides expertise to 4,400+ associations, corporations, and sporting authorities through our 400+ global associates. www.conferencedirect.com
About MeetingMentor
MeetingMentor, is a business journal for senior meeting planners that is distributed in print and digital editions to the clients, prospects, and associates of ConferenceDirect, which handles over 13,000 worldwide meetings, conventions, and incentives annually. www.meetingmentormag.com
Design by: Loewy Design