Dilemma for a Viral Time:
Cancel or Carry On?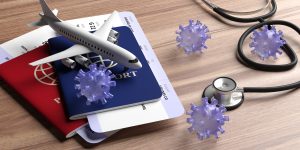 The official COVID-19 contagion and mortality rates remain relatively low in the U.S. With 1,101 confirmed cases and 29 deaths reported as of March 11, it is not surprising that many organizers of events scheduled to be held in areas currently relatively unaffected by the novel coronavirus are electing to keep calm and carry on with their events — at least until or unless the situation changes for the worse.
One of these is ConferenceDirect. CEO Brian Stevens echoed many other meeting organizers when he said in a recent communiqué, "ConferenceDirect is planning to proceed with all of our internal meetings and events. Please know that we are evaluating the COVID-19 situation daily and will adjust based on additional feedback from the meeting destination and venue. We are hearing from our customers and partners that they will be attending, and registrations continue to be on pace with the normal patterns we see year-over-year." As are others who are waiting to see how the situation develops — and how those developments could affect their events — ConferenceDirect also plans to monitor the situation closely and will continue to update its stakeholders regularly.
In the words of Gloria Guevara, president and CEO, World Travel & Tourism Council (WTTC), "containing the spread of unnecessary panic is as important as stopping the virus itself."
The 117th annual American International Toy Fair, which was held Feb. 22–25 at the Javits Center in New York City, has already come out the other side of holding an event in the coronavirus era. The show was able to refund registrants from China who had to cancel when the Trump Administration banned travelers from China from entering the U.S., which allowed the organization's event insurance to kick in.
Considering Other Options: Cancellation or Postponement
While major conventions in the Asia-Pacific region, including the International Medical Device Regulators Forum and the International Trademark Association, scheduled for Singapore, were unable to go on due to travel restrictions and bans, other shows outside the hot zones also decided to cancel, including the mobile tech giant Mobile World Congress in Barcelona, Spain.
IMEX Group, which had been staying the course with its upcoming event, scheduled to be held May 12–14 in Frankfurt, Germany, announced this week that it was canceling the show after all. In a statement, IMEX Group CEO Carina Bauer said there were two factors driving the decision: "First is the uncertainty caused by the fact that the German health minister has recently called for the ban on events with over 1,000 people which some German states have already endorsed, including the state of Hesse where Frankfurt is located. This announcement makes the probability of factors outside our control forcing us to cancel the show at the last minute much higher.
"Second, our primary concern is always the responsibility we feel towards our exhibitors and partners, who fund the show – not only by purchasing stand space but also in the considerable additional investment they make in everything from the build of stunning stands to the hosting of buyer events." IMEX Group still plans to go ahead with its IMEX America show, scheduled for September 15-17 in Las Vegas.
The 98,000-attendee Emerald City Comic Con, which was scheduled to be held this week in Seattle, was still on the books as late as last week — organizer Reedpop recently held two other major events, PAX East in Boston and C2E2 in Chicago, without incident. However, Reedpop on Friday decided to postpone the event after all. "We have been closely monitoring the situation around the COVID-19 virus in Seattle, and, after many hours of conversation internally and consultation with local government officials and the tourism bureau, we have decided to move next week's Emerald City Comic Con to Summer 2020 with date and detail announcement forthcoming," the organization said in a statement. "We did everything that we could to run the event as planned, but ultimately, we are following the guidance of the local public health officials indicating that conventions should now be postponed."
While South by Southwest (SXSW), the annual tech, film and music conference that was to be held March 13–22 in Austin, Texas, was vowing to go on as late as last week, on Friday it too was canceled due to concerns over the coronavirus. The virus had caused major sponsors including Twitter, Facebook, Intel, Vevo, TikTok and Mashable to pull out due to corporate policies restricting all business travel due to COVID-19.
One of the biggest recent cancellations was the Healthcare Information and Management Systems Society (HIMSS), which informed its attendees and exhibitors on March 5 that it was canceling its annual health information and technology conference due to the COVID-19 outbreak. This is the first time in 50 years the organization has canceled its flagship event, which tends to attract tens of thousands of attendees, according to CNBC. The announcement came after dozens of sponsors and exhibitors, including Amazon and Microsoft, said they were pulling out of the convention.
"This action was further informed by concerns received from HIMSS20 attendees, cancellations of similarly sized conferences in the U.S. and globally, as well as a growing volume of confirmed cases of coronavirus throughout the country. In light of these factors, HIMSS has determined it would be an unacceptable risk to bring so many thousands of people together in Orlando next week," the organization said.
The 2020 American Physical Society (APS) caused some consternation when it decided to cancel its 10,000-plus attendee meeting scheduled for March 2–6 on short notice —less than two days before it was scheduled to kick off in Denver. In addition to a 500-person Chinese contingent that was banned from entering the U.S. to attend the meeting, there also were growing concerns about attendees coming from South Korea, Italy and Japan — and the potential risks for all its attendees, staff, exhibitors and the local community.
Among other shows that decided to cut their losses due to COVID-19 repercussions was Adobe Summit, which opted to replace its live event in Las Vegas with an online offering. In a statement on its website, organizers said, "While we are disappointed that we will not be together in-person with our community this year, we are excited to host Adobe Summit as an online experience," details of which were unavailable as of press time. The organizers are offering full registration refunds.
Other shows, such as Informa's Natural Products Expo West, scheduled to be held March 3–7 in Anaheim, Calif., decided to postpone events until Summer 2020. In its announcement postponing the show, organizers said, "It is now clear, despite continued advice from local government and health authorities, that the City of Anaheim remains open, that the majority of our community want the show, but they do not want it now." New Hope, the Informa division that organizes the event, said it is "going to stand up a rebate fund of $5 million targeted at the specific needs [of its entrepreneur and small business stakeholders 'who are the heartbeat of this community']."
As is the case with the Adobe Summit, going virtual is an option several are exploring as the COVID-19 situation develops. One example: The Geneva International Motor Show, which had to cancel after authorities banned gatherings of more than 1,000 people due to coronavirus concerns. The organizers put their exhibitors' new product unveilings and press conferences online, while several automakers put on their own online events. The TED Conference, scheduled for late April in Vancouver, recently announced it was canceling its in-person event and is putting it up for a vote whether to postpone the live event until July or to re-envision it as a online event.
MMBC Urges Rational Approach
While travel bans and restrictions, quarantines and confinements continue to mount, the Meetings Mean Business Coalition (MMBC) is urging meeting and event organizers to make decisions based on facts and reason, not fear and hype. In a letter to the industry last week, MMBC wrote:
At this time, no federal restrictions are in place to prevent travel within the United States. However, misinformation — in the news, on social media and among colleagues — has led to rising concerns and premature calls for meeting cancellations.
As of now, anyone hosting or attending a meeting in the U.S. may proceed as planned, while continuing to consult information from the Centers for Disease Control and Prevention (CDC) and local public health authorities. Of note: Some companies and city leaders have announced internal travel restrictions, which vary on a case-by-case basis, and primarily involve international meetings.
The situation is evolving rapidly, and we expect the influx of questions and need for resources to remain steady, particularly for front-line meeting and travel employees. In addition to providing updates and coordinating with emergency responders from the health and safety community, the Meetings Mean Business Coalition (MMBC) is committed to providing tailored resources and communications assistance to industry professionals.
MMBC's coronavirus preparedness toolkit has industry-specific messaging and materials, including talking points, template press materials and sample social media content. The toolkit also includes links to issue roundups, webinar recordings, press statements and business intelligence from MMBC member companies — the U.S. Travel Association, Professional Convention Management Association, Events Industry Council, American Society of Association Executives, International Association of Exhibitions & Events, American Hotel & Lodging Association and Meeting Professionals International.
Moving forward, MMBC will continue to monitor the situation and provide updated information and resources as needed for industry professionals. We will continue to engage with health and safety authorities on any planned or anticipated measures that may impact travel. Currently, authorities are recommending the same personal best practices that are standard for a typical flu season (e.g., frequent hand washing).
As a coalition, we are committed to addressing misinformation and popular misconceptions about business travel in the news and on social media. Our goal is to ensure facts about the coronavirus are understood, and we thank everyone who is assisting in efforts to promote the latest guidance and expert advice.
We recognize the months — even years — of work that precede a major meeting and applaud industry professionals who are managing as best they can through this unfortunate and unanticipated situation. Our hope is that travelers continue to exercise healthy meeting habits and that some reassurance is granted to those hosting and attending meetings in unaffected areas during this time.
NOTE: This article has been updated as organizers of SXSW, IMEX Frankfurt and Emerald City Comic Con have cancelled their events since the article was initially published.
Free Subscription to
MeetingMentor Online
Continue
About ConferenceDirect
ConferenceDirect is a global meetings solutions company offering site selection/contract negotiation, conference management, housing & registration services, mobile app technology and strategic meetings management solutions. It provides expertise to 4,400+ associations, corporations, and sporting authorities through our 400+ global associates. www.conferencedirect.com
About MeetingMentor
MeetingMentor, is a business journal for senior meeting planners that is distributed in print and digital editions to the clients, prospects, and associates of ConferenceDirect, which handles over 13,000 worldwide meetings, conventions, and incentives annually. www.meetingmentormag.com
Design by: Loewy Design