Trending Now: Return to In-Person Meetings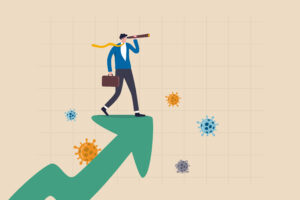 Bookings are up. Room night numbers are up. RFPs are flying out the door. Even pickup is starting to gain ground. That's just some of the good news shared by Jerry Horan, ConferenceDirect President and COO, during a recent virtual IndustryInsights event.
ConferenceDirect associates are seeing continuing momentum with both bookings and room nights, Horan said. In fact, bookings by month are almost exactly at the level they were at this point in the year in 2019, before COVID shuttered much of the business — and total percentage of bookings is actually up a couple of percentage points from pre-pandemic times. As of April, the number of room nights booked actually exceed 2019 numbers for February, March and April 2022. Booking size by room night also is gaining traction in a big way. Bookings for 1,000 room nights or more have reached 2019 levels, while bookings for meetings with 500-999 room nights and for meetings with 25-499 room nights are actually exceeding 2019 levels. Interestingly, the only percentage that has decreased over 2019 are bookings for meetings with the smallest number of room nights, 1-24.
However, pickup is still an issue, with most groups performing between 60% and 75% pickup on blocks that had been revised downward by 15% to 20%. That means there still is attrition from the group's original blocks. This, Horan said, "puts pressure on all of us to make sure we monitor our room blocks and watch our liability clauses."
ConferenceDirect's conference management division also has been "very, very busy," reported Horan. As of April, the number of events managed by ConferenceDirect year to date are 60% higher than they were in April 2019. "Customers are counting on us for on-site resources, pre-planning resources. That part of our business continues to be very robust."
Staying Ahead of Future Trends
While business is booming on most major metrics so far this year, Horan said there still are rough spots to get through in the near term.
• Anticipate cost increases. "We need to anticipate we'll have a 15% to 30% increase in costs over 2019," he said. This goes for AV, food and beverage, transportation, and room rates, all of which "have increased and continue to increase," he warned. Keep an especially wary eye on airfares, where rising costs could affect event attendance.
• Keep labor shortages in mind. Hiring, training and retaining employees will continue to be a big issue as the number of meetings and events continue to ramp up. "This is the number-one issue for vendors across the industry, not just hotels," Horan said.
• Stay Flexible. The growing demand in the meetings industry means that compression is likely to be a fact of life for the foreseeable future. While you may not have to consider alternative dates and patterns in an ideal world, in today's environment, being flexible enough to find patterns that work well for hotels is going to continue to be important for availability, but also to help keep costs down. Horan also suggested monitoring cutoff dates to avoid surprise rate increases. Another area it could pay to be flexible with is considering different locations within your destination, for example, an airport hotel versus downtown if you're meeting in a hot destination like San Francisco.
He also suggested planners encourage their attendees to book their rooms early to ensure that the group rate is available. "The group rate you booked a year ago is going to be good, especially considering the increases we've seen in the marketplace," he said.
• Communicate early and often. Especially with the staffing shortages, you could find unwelcome surprises if you don't keep the lines of communication open with your vendors. Hotel restaurants could be shuttered, daily housekeeping may not be available over your dates, or shuttle transportation could be sidelined. "Make sure you're communicating with your AV, transportation, hotel, convention center…all your vendors, because things do change dramatically," he recommended.
"We're excited to get back to business, to service our customers, and to finally get to hold face-to-face events," Horan said.
Free Subscription to
MeetingMentor Online
Continue
About ConferenceDirect
ConferenceDirect is a global meetings solutions company offering site selection/contract negotiation, conference management, housing & registration services, mobile app technology and strategic meetings management solutions. It provides expertise to 4,400+ associations, corporations, and sporting authorities through our 400+ global associates. www.conferencedirect.com
About MeetingMentor
MeetingMentor, is a business journal for senior meeting planners that is distributed in print and digital editions to the clients, prospects, and associates of ConferenceDirect, which handles over 13,000 worldwide meetings, conventions, and incentives annually. www.meetingmentormag.com
Design by: Loewy Design