Cover Story
Will Rebound Be Sustained? The Jury Is Still Out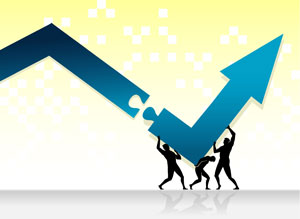 No one is declaring "Mission Accomplished," but for the first time in two years there are signs of cautious optimism in the group marketplace.
Attendance at many first-quarter exhibitions showed double-digit increases, although sales of exhibit space, typically budgeted on a calendar-year basis, continued to show a year-over-year loss.
There's a growing consensus that "corporate meetings are coming back." ConferenceDirect President and CEO Brian Stevens reported a 42 percent year-over-year increase in room nights booked for the first four months of 2010. While that reflects pent-up demand from the past two years, continued gains will be tied squarely to the strength of a sustained economic recovery.
"We have a lot of bellwether [association] groups that meet during the first and second quarters of every year," Charles Ahlers, President, Anaheim/Orange County Visitor & Convention Bureau, noted at a recent roundtable held in Birmingham, Ala. "We have seen registration increases of as much as 12 percent. Groups are again setting records," while "corporate spend remains flat compared to 2009."
"We're seeing strong numbers on the association side," agreed Dale Lockett, President and CEO of the Albuquerque Convention and Visitors Bureau. He is less sanguine about the corporate market. "Cisco made a radical decision to replace a traditional face-to-face meeting with a digital event," he noted. "What is worrisome were the results: it was rated as one of the most successful meetings ever, far surpassing expectations. It's something we have to watch [as] companies remain in cost-cutting mode."
Some associations are shifting course. "In the past two years," added Steve Slagle, President, Promotional Products Association International, "we've worked hard to find ways to partner with one-time competitors, organizations that hold trade shows that overlap our industry. Attendees have pinched their pennies pretty hard; 'bundling' two or three shows together gives them more reasons to attend an event."
History has shown that association meetings remain resilient in tough economic times. "Our affiliate members who exhibit have continued to do so," said Bill McGinley, President and CEO of the Association for Healthcare Philanthropy. "They continue to make the investment. The corporate side, it seems to me, is pretty strong and coming back."
The jury is still out on that prediction. Hard evidence comes from a recent survey of nearly 500 senior financial executives of global companies, conducted by CFO Research Services in collaboration with American Express. In 2009, 85 percent of respondents forecast a decrease in travel spending in the coming year. By comparison, in 2010, 26 percent project an increase and 31 percent expect "no change," while 44 percent plan further cuts.
The trend line for meetings is more positive. A year ago, 79 percent of respondents to the survey said their companies were likely to restrict travel to conferences and events; only 35 percent plan to do so this year.
So is the glass half full…or half empty?
Isaac Collazo, Vice President, Performance Strategy and Planning, InterContinental Hotels Group, tracks economic fundamentals as well as hospitality industry metrics. His current assessment: "Consumer confidence remains weak because of high unemployment. Some forecasts predict it will take until 2015 to get back to 5 percent unemployment. That's a very long runway." — Pete Shure
Free Subscription to
MeetingMentor Online
Continue
About ConferenceDirect
ConferenceDirect is a global meetings solutions company offering site selection/contract negotiation, conference management, housing & registration services, mobile app technology and strategic meetings management solutions. It provides expertise to 2,500 corporations and associations through our 325 Associates globally. www.conferencedirect.com
About MeetingMentor
MeetingMentor, the leading publication for senior meeting planners, is circulated to the clients, prospects and sales associates of ConferenceDirect, which books more than 3.87 million room nights. www.meetingmentormag.com
Design by: Loewy Design