Meetings Recovery: Are We There Yet?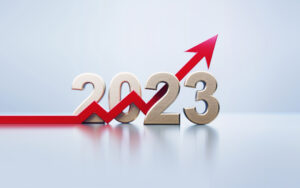 Meetings and events have lagged leisure in the speed and strength of their rebound from pandemic-related woes. But, while challenges still exist, there are indications that the industry is not just back to 2019 levels, but actually starting to leap ahead into new, better growth territory.
The news on the meetings front mirrors the upward trends the hospitality industry has been enjoying since leisure travel began to rebound strongly. According to meetings data provider Knowland, the volume of meetings and events being held at the end of 2022 also are topping 2019 levels. In December, U.S. meetings volume hit more than 103% of pre-pandemic levels — and that was the second month in a row that meetings volume exceeded those experienced three years ago. Knowland began tracking and releasing monthly group recovery data in October 2020 to inform the industry as hoteliers and event planners began to look toward recovery efforts.
The fourth quarter outperformed the Knowland forecast by 8.4 percent, driven by top market growth. The fact that both November and December exceeded 2019 numbers is a welcome sign of things to come, said Kristi White, Knowland's chief product officer. "This is the first time this has happened since the pandemic began. 2023 is poised to be a growth year, and hotels should be focused on optimizing demand and profitability," she added.
"The world and our industry are irrevocably changed, but we can't look back any longer. It's time we stopped talking about recovery and started looking forward to understand better how we can capitalize on the future."
Also on the rise is the average number of attendees per event, which in December 2022 was 111, up from 99 in the same month in 2021and just 82 in 2020. While there are more people coming to events, they're not requiring much more space than they did when events were sparser affairs. The average space used in December 2022 was 2,575 square feet, compared to an average of 2,248 square feet in December 2021 and 2,253 square feet in 2019. This means that, from a per-person perspective, 2022 and 2021 meetings used an average of 23 square feet per person, compared to 27 square feet per person in 2019.
And it's only going to get better from here. Knowland's 2023 Recovery Forecast predicts a 110% recovery over 2019 for the meetings industry, compared to 106% in its October 2022 forecast. In 2024, the company predicts a 133% recovery.
The one caveat to keep in mind is that not all events are recovering equally. Small and mid-size event organizers, and their smaller events, are coming back strong and fast, with 84% of respondents to a recent survey saying they're already at or exceeding 2019 levels. Trade shows, exhibitions and other larger events are a little slower on the rebound, according to the Center for Exhibition Industry Research (CEIR). Research CEIR released during its December 2022 Expo!Expo! event found attendees at shows are still down 23% over 2019 levels, while actual revenues were still down 18%. But that also may be changing this year. Lodging Analytics Research & Consulting is predicting a 13% increase in convention center bookings this year over 2022.
However, that doesn't mean that there aren't still some headwinds to contend with. According to  the Q4 Meetings & Events Pulse Survey, conducted by the Global DMC Partners (GDP), a global network of independent destination management companies (DMCs) and specialized event service providers, inflation is hitting budgets hard, even as two-thirds of planners say their attendance now is at or above pre-pandemic levels. In fact, 88% of planners, who were surveyed in late November and December 2022, said inflation is causing their budgets to increase. This is 20 percentage points more than said the same in Q2 last year.
"Some survey respondents commented that they are being asked to find savings in order to deliver the best solution for the same budget, while others mentioned that they are now tasked with making budgets that were set over a year ago work in the current climate," said Global DMC Partners President and CEO Catherine Chaulet.
Other top issues are attendees who don't register until the last minute, ensuring that cancellation and rebooking clauses with host venues are up to date, and hotels asking for a higher deposit up front than they used to. Staffing up also is still a concern for 45% of those surveyed, who said they are in active hiring mode.
MORE ARTICLES FROM THIS ISSUE:
Free Subscription to
MeetingMentor Online
Continue
About ConferenceDirect
ConferenceDirect is a global meetings solutions company offering site selection/contract negotiation, conference management, housing & registration services, mobile app technology and strategic meetings management solutions. It provides expertise to 4,400+ associations, corporations, and sporting authorities through our 400+ global associates. www.conferencedirect.com
About MeetingMentor
MeetingMentor, is a business journal for senior meeting planners that is distributed in print and digital editions to the clients, prospects, and associates of ConferenceDirect, which handles over 13,000 worldwide meetings, conventions, and incentives annually. www.meetingmentormag.com
Design by: Loewy Design