ConferenceDirect Solutions: Tom Schwinden
Delivering on 2 Goals: Fewer Complications
And More Hard-Dollar Savings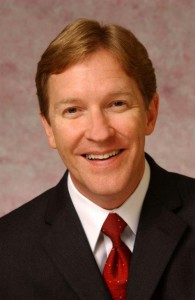 How can the meeting program be made more user-friendly and cost-effective for both attendees and meeting planner? Just ask Tom Schwinden.
One of the most valued skills this ConferenceDirect global account executive brings to meeting groups — in addition to his sales and marketing acumen — is a deep insight into the operational side of the hotel business. That often translates into fewer planning complications and more hard-dollar savings for his clients. Examples: A room set with crescent rounds for five people per table for a 300-attendee general session can transform into the evening banquet with the same staging and audiovisual production and minimal labor costs. Or, he'll educate a group's planning committee that a mix of room sizes will fulfill the educational needs; by not using 100 percent of the hotel's meeting space, he can negotiate more valued concessions for the client.
Rise in demand. Such solutions become even more critical to meeting groups as they face strong, year-over-year increases in hotel demand. "Where there is minimal availability, you'll be paying premium price on what's left for short-term business," he noted. So clients of his who used to look six months out are now starting the site selection process 18 months and even two years out. Example: One client, whose larger events blocked 500 to 1,500 rooms on peak, is finding better availability and more affordable pricing a year-and-a-half out, so it is much more proactive than when it booked under a year out. Other moderate-sized groups of 500 to 1,000, Schwinden cited, are widening their search and eyeing second-tier markets as viable options. "Many of these excellent cities have really great airlift, but it takes a bit more due diligence to provide that information to clients," he noted.
Increasing costs. Such solutions have become a "huge factor" on the bottom line, as companies try to streamline their current budgets for both domestic and international meetings. It's hard, though, to pull back when room rates and food and beverage pricing are incurring large increases year-over-year. That's why Schwinden provides clients with a solid selection of hotels for consideration — first vs. second tier or downtown vs. suburban property, when appropriate.
Bundling. If he is identifying a similar destination for two different programs, bundling at a single hotel — whether for a single client or different clients — makes excellent sense. So does booking within the same brand in different cities. Both options create "leverage opportunities to find better pricing, concessions and overall contractual terms," he pointed out. (He saved one client $185,000 going this route.) Indeed, a single client sitting at a laptop with a couple of meetings to book gains the advantage of ConferenceDirect's multiple meetings and brand relationships.
Example: A corporate client of Schwinden's wanted to plan a small program with 85 room nights this past October in New Orleans and a larger annual event with 900 room nights in Detroit this past January. Just 60 days out and with so much compression in New Orleans, the local hotels knew they could make more money from individual travelers. So properties were not interested in the meeting. Here's where Schwinden leveraged the two programs by bundling them with a single brand. "The brand's national sales office was able to garner the required inventory of guest rooms and meeting space for us in a good location in New Orleans because they didn't want to lose the 900 nights in Detroit.," said Schwinden. "And the Detroit property gave the client very attractive room rates. It truly was a win-win." — Maxine Golding
Free Subscription to
MeetingMentor Online
Continue
About ConferenceDirect
ConferenceDirect is a global meetings solutions company offering site selection/contract negotiation, conference management, housing & registration services, mobile app technology and strategic meetings management solutions. It provides expertise to 4,400+ associations, corporations, and sporting authorities through our 400+ global associates. www.conferencedirect.com
About MeetingMentor
MeetingMentor, is a business journal for senior meeting planners that is distributed in print and digital editions to the clients, prospects, and associates of ConferenceDirect, which handles over 13,000 worldwide meetings, conventions, and incentives annually. www.meetingmentormag.com
Design by: Loewy Design