ConferenceDirect Solutions: Bob Dees
Time-Strapped Organizations Seek
Much More than Negotiating Help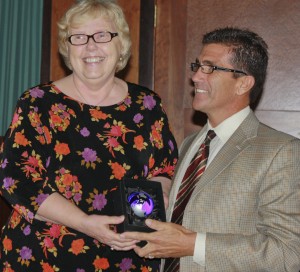 It was a classic case.
Like many small organizations whose membership fees come in $30 checks, the Florida Foreign Language Association looks to its volunteer leaders to run the operation, manage the budget, and produce its annual conference. While they are consummate professionals within their business sphere, few have the expertise and experience to effectively resolve the complications and challenges that come with meeting planning.
Enter Bob Dees, CHSP, ConferenceDirect vice president/team director. When he learned that FFLA's optimistic goals for attendance at its 2010 meeting did not pan out and the association owed the host hotel considerable attrition dollars, he determined to assist however he could. His guidance helped FFLA resolve this contract obligation, negotiate a return to the hotel in future years, and reword future contracts appropriately. These actions directly ensured the organization's continued viability. (Photo above: At the Florida Foreign Language Association's 2011 conference in Cape Canaveral, Dees received the FFLA Friend of World Languages Award for the meeting planning expertise and negotiation skills he has provided to the organization.)
Dees recounted a similar challenge for a company president, an economist and consultant to purchasing specialists in the restaurant industry. He just didn't have the time to find locations and manage the contracting process for his two meetings a year. However, recognizing a potential deal, he signed a "pre-opening" multi-year agreement with a hotel, contracting 300 rooms per night for three nights. Despite the success of the first meeting, three months before the second scheduled event the hotel informed him that it was taking another booking. He would have to relocate the meetings the remaining two years of the contract.
You know what's coming…The hotel contract had no provision for compensation to the client! No mention of assistance to relocate, no reimbursement of marketing fees or compensation for the time and expense to notify attendees. This is a customer-related event, where a huge amount of buying and selling takes place. The potential damage to the client's business reputation and credibility from a last-minute change could be devastating.
While the client loved to visit new properties and destinations, after this experience he found the process of contracting — to make sure he's protected against every possible situation — extremely frustrating and challenging. "Hotels don't always see the full value in a client's total business and what's at stake," said Dees. "Now we make sure there is a reciprocal cancellation clause in all contracts and equal compensation if the hotel should cancel the program."
Clearly, organizations are fighting for time today, having endured multiple rounds of budget cuts. "Associations have to hold their meetings, but they don't have the staff anymore to be able to carry out the many responsibilities those meetings require," Dees noted. Example: A client books seven different events a year, the largest hosting 600 attendees. Five years ago, she had a staff of three; today she has none. Yet she still puts on the same number of meetings, albeit a little smaller in size. "A lot of companies and associations want to maintain the lower expenses they have gotten used to," he added.
For that reason, many organizations are considering the double value that comes from colocation — a very effective "two for one" for attendees and exhibitors. At press time, Dees was finalizing a relationship between two associations that would bring 1,000 attendees to their colocated meetings next November, right after Election Day. "The business is short-term enough that when we started the search process, we found our options quite limited," Dees explained. "This should be planned two years out, but the associations were wary of making a commitment more than a year out."
This is the insight Dees provides clients in contract negotiation, thanks to his extensive career with hotels. But his knowledge of digital marketing, including social media, delivers a great "value add." He has even conducted some online sessions with his clients, showing how they can set up profiles and groups in LinkedIn, and build participation among their members. "I bring more to the table than just reconnaissance work," he added. "My goal is to be my clients' trusted advisor for the long term." — Maxine Golding
Free Subscription to
MeetingMentor Online
Continue
About ConferenceDirect
ConferenceDirect is a global meetings solutions company offering site selection/contract negotiation, conference management, housing & registration services, mobile app technology and strategic meetings management solutions. It provides expertise to 4,400+ associations, corporations, and sporting authorities through our 400+ global associates. www.conferencedirect.com
About MeetingMentor
MeetingMentor, is a business journal for senior meeting planners that is distributed in print and digital editions to the clients, prospects, and associates of ConferenceDirect, which handles over 13,000 worldwide meetings, conventions, and incentives annually. www.meetingmentormag.com
Design by: Loewy Design