Case Study: CUPA-HR
Keeping a Lid on the H1N1 Virus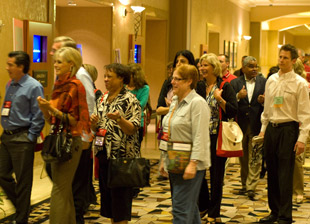 The H1N1 virus triggered an early onset of the flu season, reaching a new peak just days before the October Annual Meeting of the College and University Professionals for Human Resources (CUPA-HR) in Las Vegas. The potential threat made Lisa Hayden, the association's director of conferences and meetings, "a little nervous."
The organization's premiere event had a number of factors working in its favor. First, it could reference an in-depth emergency preparedness plan, first drafted in 2007. This outlined the procedures staff would take in response to everything from bomb threats to medical emergencies.
Second, CUPA-HR could count on highly educated members. Their jobs already required them to be well-versed about pandemics and deeply involved in helping to plan and manage H1N1 response on their own campuses. The 1,100 professionals who attended the annual meeting would not need hand-holding.
Third, the conference, at two-and-a-half days, was relatively short in duration. Hayden believed most people would likely come and go before showing symptoms of "swine flu." Her bigger concern, because they would be on site for a longer period of time, was keeping her staff healthy. What emerged was a four-point plan.
Step 1: Information. CUPA-HR determined to take a "soft approach," alerting prospective attendees only about major news advisories. "We discussed this many times," Hayden said. "They were so immersed in the issue that we didn't want to insult their intelligence with overkill."
Step 2: Cancellation. Individuals who wish to cancel their registration for any reason are routinely required to notify CUPA-HR in writing. When a couple of cases of swine flu actually surfaced, those requests were immediately honored.
Step 3: Prevention. The organization decided early on to make sanitizers available just about everywhere. Attendees appreciated seeing them at registration, in CUPA-HR's booth, at stations around the exhibit hall (where breakfast, opening reception and break functions took place) and outside banquet rooms.
Step 4: Contingencies. Hayden and the CUPA-HR team were ready to assist attendees who contracted any form of the flu. They compiled information about local medical facilities and recruited volunteers with private vehicles on site should someone need transportation. They enhanced their "safety kit" to include disposable thermometers and fever-reducing medicines.
The final outcome? Only one staff member used a thermometer (for what turned out to be just a cold), but "for some reason," she said, "we did have a run on Tylenol."
— Maxine Golding
Free Subscription to
MeetingMentor Online
Continue
About ConferenceDirect
ConferenceDirect is a global meetings solutions company offering site selection/contract negotiation, conference management, housing & registration services, mobile app technology and strategic meetings management solutions. It provides expertise to 4,400+ associations, corporations, and sporting authorities through our 400+ global associates. www.conferencedirect.com
About MeetingMentor
MeetingMentor, is a business journal for senior meeting planners that is distributed in print and digital editions to the clients, prospects, and associates of ConferenceDirect, which handles over 13,000 worldwide meetings, conventions, and incentives annually. www.meetingmentormag.com
Design by: Loewy Design