COVID-19 Case Study: From Magnetometers to the Pandemic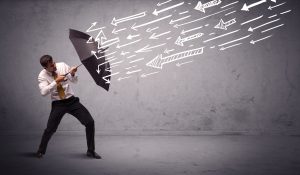 Everything was set for more than 10,000 occupational therapy practitioners and students planning to come to the American Occupational Therapy Association (AOTA) annual meeting at the Boston Convention and Exhibition Center (BCEC) this March. Sessions were set, the 350 exhibiting companies were making their preparations, and AOTA's Vice President, Meetings and Events Frank Gainer, CMP, CAE, and his team were putting on the final touches.
Then, about six weeks out from its March 25–29 meeting, AOTA got word that the Massachusetts Convention Center Authority, which operates the BCEC as well as the Hynes Convention Center, planned to roll out a new security measure: magnetometers. There was no specific threat, and the AOTA would not be liable for the costs of implementing it, but the show organizers still worried that it would cause some serious bottlenecks at the BCEC entrance security checkpoints.
"We were worried about how this could affect the flow of our attendees due to sessions taking place at both the headquarter hotel and the convention center," said Gainer. They were in the process of working out the additional checkpoints and staffing AOTA would need to ensure its attendees and staff could minimize wait times.
Then COVID-19 happened, and all that worry ended up being for naught.
Though people were still registering for the conference — it was gearing up to be the association's second largest ever — AOTA decided to cancel. However, on advice of legal counsel the association had to wait until Massachusetts declared a state of emergency so they could have force majeure grounds for the cancellation before making it official.
"We were waiting with bated breath to see if the governor would institute a meeting or travel ban," Gainer added. Massachusetts Governor Charlie Baker declared a state of emergency on March 10. "Within minutes of that happening, we sent out an announcement about the cancellation to our attendees, speakers, and exhibitors. It was a wild two weeks — I never want to go through that again!"
Putting Attendee Needs First
Why the rush? "Remember the [American Physical Society's March meeting in Denver that was cancelled so late that many attendees had already arrived on site]? We did not want to be like that group," Gainer said. AOTA wanted to give attendees enough time to get their airfare and hotel refunded, and even provided a letter for those who were staying at Airbnb lodgings to help them recoup their costs. The association had more than 10,000 room nights contracted in the city, with 2,800 on peak.
Many attendees work with vulnerable populations, so AOTA had to take those needs under consideration.
As concerns began to mount in the days leading up to the governor's declaration, AOTA offered to let anyone cancel who wanted to, minus the standard 15% cancellation fee, Gainer said. "Because so many of our attendees are paying their own way, we also told them that, if we did cancel, they would get a full refund within 30 days, including those who canceled early and paid the 15% fee." They were given the option of rolling their registration fee over to the 2021 conference, to be held next April in San Diego, and about 500 did choose to do that, he said. Exhibitors and sponsors also were given a full refund.
"We ended up refunding $4 million, but it was the right thing to do."
The decision to cancel, rather than try to postpone or take the event virtual, was made a tad easier because AOTA's event insurance would cover the pandemic-induced cancellation.
Providing an Online Option
AOTA did not have an appropriate online platform, nor did they have the time, to take the entire meeting virtual within two weeks. However, with a member base that needs to earn continuing education credits for licensure — and is on the front lines such as hospitals and nursing homes — AOTA wanted to take at least some of its education online.
They began rolling out COVID-19–related online sessions on April 1, offered free to members and nonmembers alike. "We had 7,000 people sign up for the first session," said Gainer. A few days later they rolled out their first virtual conference session, offered at a low cost. They now have produced more than 100 online sessions.
"We had more than 80,000 registrations in the first two months," he said.  "The feedback has been phenomenal for both the COVID-19 and conference sessions, with about a 98% satisfaction rating."
An added bonus is that AOTA now had a database of 47% of online viewers who are nonmembers or lapsed members to market membership to, something that has been very successful. "While many associations are seeing their membership decrease, we are holding steady, even increasing a little."
While exhibitors have not proven to be early adopters of the online offerings, "Now that we have a track record to show them, I think we'll be more successful," Gainer said.
The online sessions will continue to be held throughout the year as the organization also is in the process of rescheduling for 2021 the three face-to-face meetings it had on the docket for this fall, which would have drawn from 150 to 450 attendees.
With meetings comprising 22% of its annual revenues, AOTA is better structured to handle the COVID-19–induced loss of its face-to-face meetings than many associations. However, while the virtual offerings are a good way to keep members engaged and learning, "It will never replace face to face," Gainer said.
As for its annual convention next spring? "It's still early days – let's get through this summer first!" said Gainer. AOTA has already made the decision that it will be a hybrid event. — Sue Pelletier
Free Subscription to
MeetingMentor Online
Continue
About ConferenceDirect
ConferenceDirect is a global meetings solutions company offering site selection/contract negotiation, conference management, housing & registration services, mobile app technology and strategic meetings management solutions. It provides expertise to 4,400+ associations, corporations, and sporting authorities through our 400+ global associates. www.conferencedirect.com
About MeetingMentor
MeetingMentor, is a business journal for senior meeting planners that is distributed in print and digital editions to the clients, prospects, and associates of ConferenceDirect, which handles over 13,000 worldwide meetings, conventions, and incentives annually. www.meetingmentormag.com
Design by: Loewy Design