Meeting Mean Business Update
'Worth Meeting About' Campaign Showcases
Value of Meetings at Political Conventions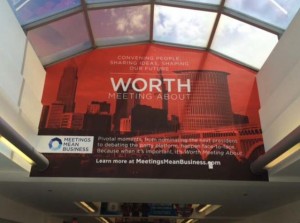 Meetings Mean Business made a splash at the Republication and Democratic national conventions with its "Worth Meeting About" campaign, which launched on June 1. The timing and settings in convention host cities Cleveland and Philadelphia were perfect for showcasing the value of meetings in bringing people together.
"We knew this was an opportunity that only comes once every four years," said Michael Dominguez, MMB coalition co-chair and senior vice president/chief sales officer, MGM Resorts International, pointing to the many policy-makers and elected officials who gathered in these two cities. It's too late to send the message "when an economic downturn causes public officials to forget about the value of meetings, which help grow our economy, jobs and businesses," he added. The campaign "is trying to send the message way early to look at meetings in a different light."
Signage met visitors as they arrived at each city's airports and continued on billboards along I-95 in Philadelphia. "We were able to get the visibility we were looking for," Dominguez noted, and the messages were "well coordinated and well timed." Ads online were "geo-targeted" to the host cities to maximize their visibility and overall impact. A campaign hashtag also began on Twitter (#WorthMeetingAbout). Additional ads are being featured in several print publications, and materials for coalition members were shown for the first time at the Destination Marketing Association International meeting in Minneapolis.
The kick-off was just the start of MMB's efforts for this campaign. Until Election Day in November, MMB plans to highlight the different types of in-person meetings that are taking place — debates, town halls and rallies. These events and their outcomes will be used to show that while elections only happen every four years, meetings take place and positively impact people, businesses and communities all the time.
Worth Meeting About will "hammer home the message" again during IMEX America in Las Vegas, said Dominguez, whose meeting dates of October 18-20 coincide with the final scheduled presidential debate in that city on October 19.
Other activities planned for the campaign include:
• Publishing blog posts and op-eds on the role face-to-face played at the national party conventions and presidential debates.
• Developing new materials for coalition members (including a "Path to the White House" infographic).
• Using social media to expand the reach of key messages online.
MMB plans to build on these efforts beyond 2016. "This is not a one-time campaign," said Dominguez, emphasizing that it's a grassroots effort to get everyone talking about meetings. "We'll continue to hammer away at elected officials on national, regional and local levels." Click here to learn more about Worth Meeting About. — Maxine Golding
Free Subscription to
MeetingMentor Online
Continue
About ConferenceDirect
ConferenceDirect is a global meetings solutions company offering site selection/contract negotiation, conference management, housing & registration services, mobile app technology and strategic meetings management solutions. It provides expertise to 4,400+ associations, corporations, and sporting authorities through our 400+ global associates. www.conferencedirect.com
About MeetingMentor
MeetingMentor, is a business journal for senior meeting planners that is distributed in print and digital editions to the clients, prospects, and associates of ConferenceDirect, which handles over 13,000 worldwide meetings, conventions, and incentives annually. www.meetingmentormag.com
Design by: Loewy Design