Survey: Travel to Conferences Returning to Pre-Pandemic Levels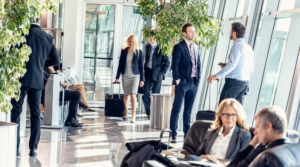 A whopping 84% of business travelers anticipate they'll be back to attending conferences and events at pre-pandemic levels by summer — and almost a quarter say they'll take even more trips to attend conferences, conventions and trade shows than they did back in 2019, according to recently released survey results.
Business travel is coming back in a big way, and so is attendance at in-person meetings and events. In fact, a full 84% of business travelers expect to be heading out to a conference or trade show in the next six months, according to newly released data from the Business Travel Tracker. The tracker, a new quarterly monitor prepared by Tourism Economics for the U.S. Travel Association, in collaboration with J.D. Power, measures business travel activity in the U.S. during the most recent quarter, based on surveys and hotel room demand, air passenger volumes, and arrival of international business travelers.
Business travel overall is on the comeback trail, with corporate road warriors expecting to hit the road at about the same frequency as they did pre-pandemic, about 1.6 trips per month on average, compared to 1.7/month before COVID hit. About half of those travelers were heading to conferences, conventions and trade shows, the index found, about the same percentage as in 2019. The tracker data also indicates an upswing on travel to meet with customers, suppliers and stakeholders (up 28%), externally provided training sessions (up 21%), and incentive travel (up 22%). While meetings with customers and suppliers was the top business purpose cited, attending meetings/conventions/trade shows was next highest on the list, closely followed by incentive travel.
"The return of in-person meetings and events—and business travel in general—is a welcome sight after more than two years of pandemic-related uncertainty," said U.S. Travel Association President and CEO Roger Dow. "There is simply no substitute for a face-to-face meeting, which is proven to lead to more fruitful business opportunities and can help power an economic and jobs recovery in communities across America."
While about a quarter, 24%, of business traveler respondents said they expect to attend more business events than they did pre-COVID, 6% weren't so sure. Though 13% of those respondents said their uncertainty was based on lingering business travel restrictions still in place at their company, the reason they most frequently cited was that meetings and conferences just aren't happening, at 16%. Despite fears that the virtual-meeting revolution COVID forced many to undergo would cannibalize in-person events when they were able to be held again, just 12% said their uncertainty about attending business events in the next six months was due to videoconferencing. Health and safety concerns were far down the list as COVID restrictions continue to lift, with just 10% listing this as a reason for uncertainty around business travel in the next six months.
"While the data indicates a strong desire from American business travelers to hit the road again, there is a big difference between willingness to travel and actually taking a trip," said Dow. "Corporate leaders should seize the competitive advantage, budget for business travel, and encourage their teams to get back on the road and reestablish those personal connections that only come with face-to-face interactions."
Another component of the Quarterly Business Travel Tracker, a newly developed current and forward-looking Business Travel Index, shows that while business travel activity slowed somewhat in Q1 2022, business conditions for travel such as GDP and business investment are in fact favorable, reaching an index of 105 for Q2 2022 (2019=100).
The top reasons business travelers cited for going to conferences, conventions and trade shows were to develop relationships with customers and suppliers (47%), closing sales (23%), and building awareness of the organization's products or services (26%). Professional development, employee motivation, and understanding current trends rounded out the top six reasons for going to shows.
"In-person conferences have relational and financial impacts to corporations that are significant," said Andrea Stokes, Practice Lead for Hospitality at J.D. Power. "Nearly half of survey respondents indicated that conferences, conventions and trade shows are critical to developing relationships with customers, suppliers or others. Nearly one in four respondents indicated these events are critical to closing sales."
And these events are even more critical now that more business travelers are working from home, the survey found. With all respondents saying they worked remotely at least some of the time right now, traveling is even more important. Among the reasons employers are encouraging travel for their partially or fully remote workers include engaging with coworkers and team members in person (38%); attending training sessions (31%), attending company/department/team celebrations (29%); and meeting with managers or supervisors in person (20%). Just 18% of respondents said their employer didn't encourage them to travel for these reasons.
Free Subscription to
MeetingMentor Online
Continue
About ConferenceDirect
ConferenceDirect is a global meetings solutions company offering site selection/contract negotiation, conference management, housing & registration services, mobile app technology and strategic meetings management solutions. It provides expertise to 4,400+ associations, corporations, and sporting authorities through our 400+ global associates. www.conferencedirect.com
About MeetingMentor
MeetingMentor, is a business journal for senior meeting planners that is distributed in print and digital editions to the clients, prospects, and associates of ConferenceDirect, which handles over 13,000 worldwide meetings, conventions, and incentives annually. www.meetingmentormag.com
Design by: Loewy Design