ConferenceDirect Solutions: Kelly Newlon
To Make Meetings Successful,
Best Practices Focus on the Details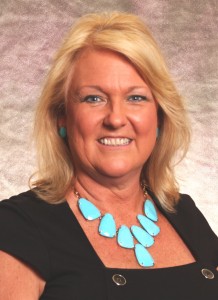 Meeting planning success is all in the details, and that is Kelly Newlon's specialty. She knows just how hard it is for corporate and association clients to cover all the bases when they're tasked to do more with less. So the ConferenceDirect vice president of global accounts taps her deep background in catering and convention services for meetings from 100 to thousands for the most productive ideas and practices to put into action.
Challenge: On-site surprises. Newlon walked into a host hotel last October to find that the "small construction wall" she expected to see took up the entire lobby, and it was going to be there throughout the 13,000-attendee meeting — and impact an event in the lobby bar. "We were told this would take up a small space, and I even had a printout of the e-mail ready."
Solution: She immediately called the general manager, director of sales, and the rest of the hotel team to the lobby for a conversation. She compared the printed message with what everyone could see and asked them to "make it right." Some quick negotiations resulted in a percentage discount off food and beverage and a number of immediate upgrades.
Challenge: Growth. Newlon's clients are in the enviable position of seeing their meetings grow year over year. But meeting space and room blocks are becoming more difficult to negotiate.
Solution: Newlon never sends out a request-for-proposal without first working through the local convention and visitors bureau. "If they're not willing to look at our group this far out, we move on to another city," she said, saving everyone time and effort. She also includes an "economy review" clause in every contract should local market conditions change due to a recession or depression.
Challenge: Tracking tasks and expenditures. With all the other work her clients have on their plates, Newlon knew they needed help in closely tracking tasks (who's responsible for what) and quantifying expenditures for their meetings, especially when things change at the last minute.
Solution: Looking for a productivity tool, Newlon found software that's "like a mini strategic meetings management program." It keeps everyone focused on their individual tasks, yet able to see the big picture.
Challenge: Housing. The good news is that her clients' meetings are growing, but room rates are high and still going up. Having ConferenceDirect manage the housing "has really helped," she said. "Someone who is expert is actually monitoring the room block."
Solution: One client actually got rid of their smaller regional events and broke their one large annual event into Spring and Fall events. After two years, attendance plateaued, so Newlon is helping the client return to one big event, which will give them more buying power and enable them to touch more people.
Challenge: In-house providers. When her clients use convention centers or arenas, Newlon pays close attention to two potential issues: (1) whether venues have public or private ownership and (2) the price points of their in-house providers. Both impact the facility's revenue expectations. An arena sought a percentage of alcohol sales and product merchandising sales, since these are very usual at sporting events — and placed those requirements into the contract. However, no alcohol could be served at the corporate event in question, nor would branded merchandise be offered.
Solution: Negotiating these sales out of the contract was "huge" for the arena and vendor, she noted, as they would be missing out on revenue. Still, she managed to do it. "When facilities find out my background, and that I know the back-end of venue operations and pricing, negotiations are easier," she said. — Maxine Golding
Free Subscription to
MeetingMentor Online
Continue
About ConferenceDirect
ConferenceDirect is a global meetings solutions company offering site selection/contract negotiation, conference management, housing & registration services, mobile app technology and strategic meetings management solutions. It provides expertise to 4,400+ associations, corporations, and sporting authorities through our 400+ global associates. www.conferencedirect.com
About MeetingMentor
MeetingMentor, is a business journal for senior meeting planners that is distributed in print and digital editions to the clients, prospects, and associates of ConferenceDirect, which handles over 13,000 worldwide meetings, conventions, and incentives annually. www.meetingmentormag.com
Design by: Loewy Design