Positive Projections
Some Association Meetings Ride an Upswing
While it's never easy to make projections during periods of economic uncertainty, some associations and their meetings are riding an upswing into 2012.
"Our meetings business is actually growing, and I don't think we're near the top," said an optimistic William (Bill) Davis III (left), executive director, American Anthropological Association. He pointed to the even greater value professional societies like his provide during times of economic stress. "Members increase their interaction to stay up-to-date on research being done, remain connected and visible, and try to keep themselves as marketable as possible," he noted. At the same time, when the economy goes south, professionals societies need to invest more in services and benefits that, as Davis cited, "weld members more tightly to the organization. We're not pulling back."
Those are big reasons for the organization's upsurge in attendance at its annual meeting, from 5,340 in 2009 to 5,987 in 2010. At press time, Davis expected November's meeting in Montreal to break all records at 6,100 and the growth to continue in 2012.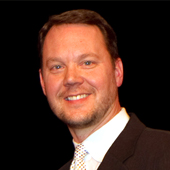 "Excitedly optimistic" is how executive director/CEO Mark Koepsell (left) characterizes his forecast for the 2012 Central annual conference of the Association of Fraternal Leadership & Values. The organization is riding a wave of exponential growth since two regional associations merged into a single national entity in 2009. Koepsell has budgeted a conservative 3 percent increase for next year's meeting of 2,500 university and college students and advisors, but anticipates a stronger performance to report to the AFLV board.
"We're gaining membership from places we've never touched before," he noted, and an aggressive and focused social media strategy is contributing to the growth of both the organization and its meetings (which also includes the 800-attendee West annual conference). For many students, this is their first conference experience, so AFLV's goal is to create an emotional attachment right off the bat.
The biggest change for 2012: AFLV is dipping into the virtual meeting realm to gain exposure that will bring more students to the meeting in the future. "We'll record key sessions that will be available on demand on the web site, and create a virtual exhibit hall that gives exhibitors added benefit," he cited.
The College Art Association "forecasts its conference attendance with historical data and survey results in mind, while trying as best we can to retain the quality of the conference's programs and services," said Michael Fahlund, deputy director. He, too, is optimistic about the success of the organization's 100th annual meeting in February 2012, which he expects will draw some 5,000 artists and art historians.
However, CAA is also watching how its return to Los Angeles, only a few years after its previous visit, will be viewed. "We don't have much experience in rotating among three cities every two to three years, as we do now with Los Angeles, Chicago and New York," he explained. "We don't want attendees to experience 'destination fatigue.'"
One new development that CAA is pursuing, he said, is extending the face-to-face event with virtual technologies. That way, members who can't travel to the host city can have access to some of the highly valued on-site sessions and workshops. However, two issues specific to the art world — the difficulty in gaining copyright and image permissions for new research presented at the conference and the challenge of displaying digital images with substantial quality — will need to be evaluated. Then, there's the big budget question of "do we charge or can we make elements of the virtual component free?" he asked. — Maxine Golding
Free Subscription to
MeetingMentor Online
Continue
About ConferenceDirect
ConferenceDirect is a global meetings solutions company offering site selection/contract negotiation, conference management, housing & registration services, mobile app technology and strategic meetings management solutions. It provides expertise to 4,400+ associations, corporations, and sporting authorities through our 400+ global associates. www.conferencedirect.com
About MeetingMentor
MeetingMentor, is a business journal for senior meeting planners that is distributed in print and digital editions to the clients, prospects, and associates of ConferenceDirect, which handles over 13,000 worldwide meetings, conventions, and incentives annually. www.meetingmentormag.com
Design by: Loewy Design