ConferenceDirect Solutions: Christine Caulfield
Due Diligence Improves Outcomes
As It Limits Clients' Exposure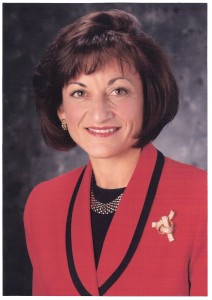 For Christine Caulfield and her meeting clients, success is all about advance planning.
"My job is to anticipate all of the factors that will affect the successful outcome of a meeting and then provide a clear picture of the opportunity and choices," the ConferenceDirect vice president/team director said. "That means really understanding what clients are trying to accomplish and making their goals mine. It is my company when I'm representing my client."
Even as she brings many years of experience in hotel sales and conference management to bear for her clients, Caulfield happily admits to "still learning."
Take her recent work with a pharmaceutical company, helping to plan half-a-dozen clinical trial investigation meetings worldwide. Her challenge was to find the most accessible, affordable and appropriate destinations in regions from Europe to South America to Southeast Asia and back to the United States. She and ConferenceDirect were tasked not just with site selection, but also on-site meeting services that included securing translators in each location.
When the client determined it wanted one program to be held in Mumbai, Caulfield did the research. But just as they were close to jointly deciding on the venue, they realized that the dates coincided with monsoon season there. "We understand that the locals don't up and leave in monsoon season," she acknowledged. "But enough deterrents were already coming into play due to visa and travel document requirements and a very short lead time. We didn't think it was wise to add another." With attendance critical to the success of the program, destination accessibility was a very crucial site selection component.
That's just a single example of the extensive due diligence that Caulfield and ConferenceDirect's conference managers delivered to this client.
"You're moving from hotel to hotel and working with different people in each destination," she noted. "We knew exactly how the program should operate, so we became the one piece of continuity for the client." The extensive advance work and pre-planning continued on site to ensure that the hotel, audiovisual, and transportation service teams all fulfilled their responsibilities. "It's so great to come back from a successful meeting!" she enthused.
On the other hand, postponed Food & Drug Administration approval required that another investigator meeting associated with that clinical trial be canceled with very short notice. A different hat needs to be worn in that instance, Caulfield advised.
When the pharmaceutical client had no choice but to pull the plug on a meeting set for Florida, "there was plenty to discuss" she acknowledged. "Having a good contract in place that provides the best cancellation protection for both the client and the hotel is a critical start." She can make the best of a tough situation, helping the hotel recoup some short-term business and the client rebook the program to bring the same or even more value to the hotel. Meanwhile, the ability to internally market the hotel space that unexpectedly became available to the ConferenceDirect network of associates can be of tremendous benefit to the hotel, and ultimately the client.
Caulfield has had to don her former hotelier hat quite often lately when negotiating hotel contracts. Because she has written contracts as a hotel director of sales, she can identify a property's profit centers and points of greatest flexibility, and ultimately negotiate real value for her customers. This skill is especially valuable when clients see the buying cycle turn and hotel room rates rise — as they have in 2011 and are projected to continue in 2012.
"Customers have gotten used to getting good deals until now, and they aren't used to seeing the rates hotels are quoting," she explained. "Admittedly, those were difficult years for hotels. Now, it's a re-education process — especially for groups that are trying to attract what may be a smaller pool of potential attendees to their programs."
That's exactly why she remains conservative on contract exposure. This is a real "balancing act" for both Caulfield's clients and the hotels they utilize, she acknowledged, especially with ongoing economic uncertainties and high unemployment.
For that reason, it is vital for Caulfield to have her finger on the pulse of what's happening in the industry, as well as extensive information on new destinations and properties that will deliver a quality meeting experience. Indeed, as organizations downsize and outsource the meeting function, the clients she is working with have had to learn to do more with fewer internal resources. "All the clients I work with are running as fast as they can," she said. "They have a job to do and business to accomplish. Their day-to-day requirements don't change like the Dow Jones industrial average. So they count on us for the knowledge and great ideas that ConferenceDirect associates share with each other." — Maxine Golding
MORE ARTICLES FROM THIS ISSUE:
Free Subscription to
MeetingMentor Online
Continue
About ConferenceDirect
ConferenceDirect is a global meetings solutions company offering site selection/contract negotiation, conference management, housing & registration services, mobile app technology and strategic meetings management solutions. It provides expertise to 4,400+ associations, corporations, and sporting authorities through our 400+ global associates. www.conferencedirect.com
About MeetingMentor
MeetingMentor, is a business journal for senior meeting planners that is distributed in print and digital editions to the clients, prospects, and associates of ConferenceDirect, which handles over 13,000 worldwide meetings, conventions, and incentives annually. www.meetingmentormag.com
Design by: Loewy Design